Krispy Kreme Free Doughnut Daylight Savings Day: How To Score A Free Original Glazed Donut [PHOTO]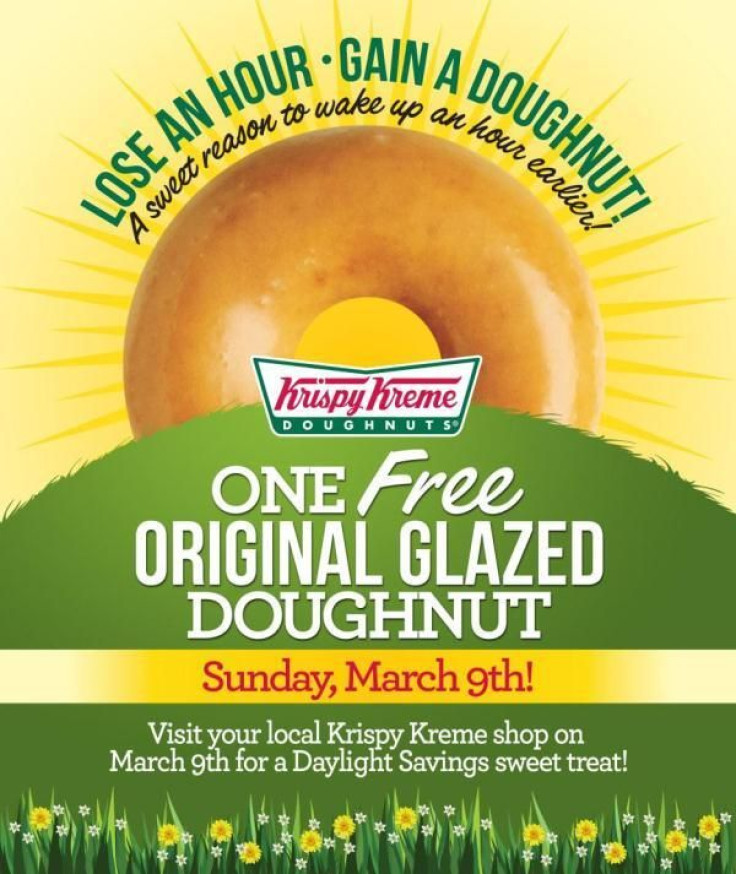 The coming of Daylight Savings Time may mean one less hour of sleep on Sunday, but that groggy feeling in the morning may be worth it, thanks to Krispy Kreme Doughnuts (NYSE:KKD).
The Winston-Salem, N.C.-based doughnut maker is celebrating Daylight Savings Time by offering a free original glazed doughnut to guests at participating U.S. and Canadian locations on Sunday. Guests don't even need to make a purchase to score a free doughnut. The treats will be doled out starting at 5 a.m.
"What a sweet reason to make an hour early!" Krispy Kreme said on its website to tout its "Lose An Hour Gain A Doughnut!" promotion.
Find your local Krispy Kreme location here to get your free doughnut. The promotion is not valid in Uncasville, Conn., Puerto Rico and six Texas cities -- Austin, San Antonio, El Paso, Laredo, San Marcos and McAllen.
Krispy Kreme set up a Facebook event to get customers ready for their free doughnut. As of Thursday morning, more than 1,500 Facebook users said they would be taking part.
Krispy Kreme customers said they were grateful for the promotion.
"So worth the hour," wrote Rhonda Roxanne Howard.
Catherine Anatra added, "yayyyy OK now I don't mind losing the hour."
"Gain a donut gain a pound WHO cares!!" said Marlena Gallegos.
Daylight Savings Time begins Sunday at 2 a.m. That's the time clocks get pushed forward an hour. While you'll have to get by with less sleep, you also can score a free doughnut. And a longer afternoon.
© Copyright IBTimes 2023. All rights reserved.