Kurds Targeted Across Turkey Following Deadly Militant Ambush On Turkish Military Convoy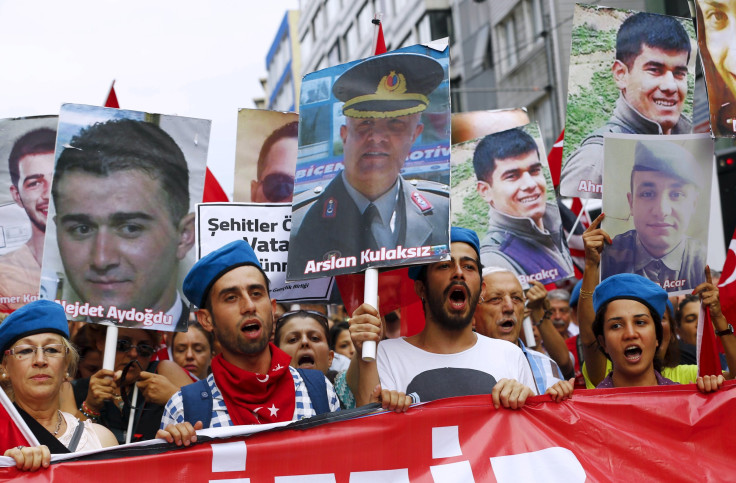 Kurdish citizens and offices of a pro-Kurdish political party were reportedly attacked across Turkey following confirmation that 16 Turkish soldiers were killed during an ambush by Kurdish militants, local media outlets reported Monday. Pictures and videos surfaced on social media reportedly showing hundreds of Turkish nationalists running through the streets, as civilians who were said to be Kurdish, lay bloodied on the ground.
Escalating tensions and violence have skyrocketed in Turkey's restive southeast, where militants with the Kurdistan Workers' Party (PKK) have apparently relaunched a decades-old insurgency against the Turkish state that subsided as part of peace talks in recent years. Following news of the ambush, the military stepped up air strikes against PKK targets near the Iraqi border Monday, though no deaths were reported.
Turkey's Prime Minister, Ahmet Davutoglu, has vowed to "wipe out" PKK rebels since the deadly attack.
At least 126 offices belonging to the pro-Kurdish People's Democratic Party (HDP) were attacked, Today's Zaman reported. Protesters reportedly also attacked a number of Kurdish homes and set cars on fire, as many across the country mourned the ambush on the military convoy as the single most significant attack on the Turkish military in years. The deaths come amid rising attacks by the PKK. At least 70 Turkish security force members have been killed since a cease-fire ended in July, the New York Times reported.
Tensions have risen since an attack carried out by Islamic State militants killed 31 mostly left-wing activists in a southern Turkish town in late July. Kurdish groups held the Turkish government accountable for the suicide attack, claiming it failed to stem the spread of ISIS in the country. The Kurds immediately launched a series of retaliatory attacks against Turkish security forces.
The Turkish government responded with a broad crackdown against ISIS militants and members of the PKK. Many have accused the Turkish government of failing to focus its operation on ISIS militants and for targeting Kurdish activists and militants instead. In August, a senior leader of the PKK warned that Turkey would "pay a heavy price" for its ongoing offensive against Kurdish militants.
In late August, Turkey launched its first air strikes as part of the U.S.-led coalition against ISIS extremists in Syria. The Turkish government has also allowed the U.S. military to use Incirlik Air Base, near Adana and the southern Mediterranean coast, to launch operations into Syria.
© Copyright IBTimes 2023. All rights reserved.