Lack Of UN Funding For Food Puts 1.7 Million Syrian Refugees At Risk As Winter Approaches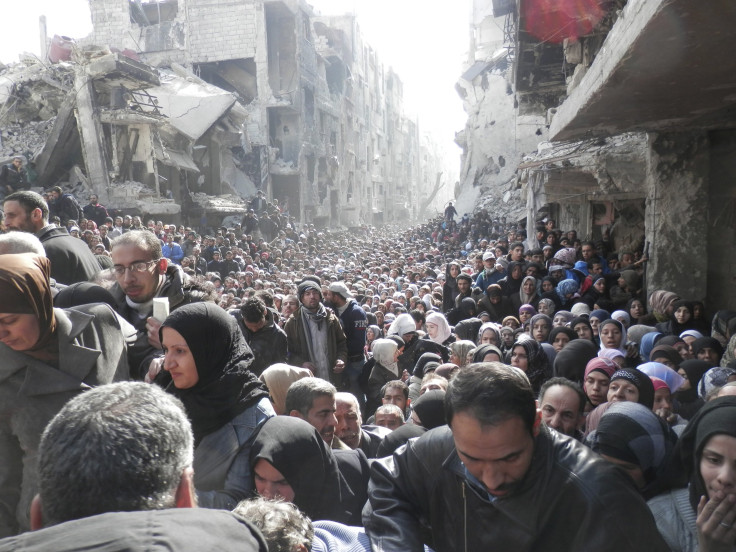 More than half of all Syrians who fled the country and are receiving humanitarian aid will lose their main source of food assistance this winter. The United Nations' food agency has run out of money to fund its voucher program, which served 1.7 million displaced Syrians.
The program's suspension could cause the Syrian civil war's death toll, which stands somewhere near 300,000, to spike drastically. It would also take a heavy toll on Jordan, Lebanon, Turkey and Egypt -- the countries where the refugees now live, where the voucher program has injected $846 million into the local economies since 2012, by the U.N.'s own count.
The voucher program, which gives Syrians electronic cards with up to $45 on them to purchase food at local markets, is run by the U.N.'s World Food Program (WFP) and is paid for by member states as well as other donors, but has suffered from a lack of funding. The United Nations warned several times that if it did not receive more money, it would have to cut its food programs -- which would inflict deadly consequences on the refugees.
"We could not alert [U.N. member states and refugees] more than we did," WFP spokeswoman Elisabeth Byrs said.
The Geneva-based agency alerted the international community of its funding issue as early as September 2013, she said. It ran out of funds for the program officially in October, but was able to secure a pledge from the U.S. government's international aid arm, USAID, that helped the agency to continue providing food vouchers through November.
In a report from October, the agency said "without additional funding, the first pipeline break is expected in November 2014 and the WFP will be forced to significantly limit the number of people supported with essential food assistance." It added, "Any reductions or halt in WFP assistance are likely to cause widespread food insecurity and further population movement and increased protection concerns." According to the report, the WFP had to reduce its rations for distribution in October by 40 percent because of funding shortfalls.
It was the biggest reduction since the beginning of the agency's operation in Syria. It was also the first time that one of the main humanitarian actors in the Syrian relief effort stopped a service because of a lack of money.
The program could have been saved, humanitarian workers told International Business Times, not only if member states donated more money, but if the agency had a different internal financial architecture.
Documents from the agency's resource management and accountability department show that as early as April 2014, and possibly before, the WFP was reviewing how to improve its funding procedures. One slide from a PowerPoint presentation says the WFP had difficulty with its "fragmented funding released piecemeal, with limited flexibility" and faced "uncertainty in total funding." According to documents available online, the agency plans its finances month to month and does not have much room for long-term funding. The agency review of its financing was set to end by early 2015.
But the WFP was already set back this year, despite its financial structure. It made an appeal for $1 billion last year to fund its 2014 services, but only received $484 million. That means that U.N. members gave only half of what they should. The WFP's appeal to donors was part of a larger appeal by several U.N. agencies that in total asked for $6.5 billion in December 2013. At a donors' conference in January 2014 in Kuwait, countries pledged $2.4 billion in response to the appeal. But so far only 24 percent of those pledges have been fulfilled. According to U.N. documents, Kuwait owes $200 million, the European Commission owes $51 million, Saudi Arabia $43 million, Italy $23 million, Iraq $13 million, Qatar $11 million and Oman and Switzerland $10 million each. About 10 other countries owe smaller amounts, the Associated Press reported.
The agency is also providing food assistance to those displaced by the war but still living in Syria. That program has enough money to last until January, Byrs said, adding that the WFP needs at least $25 million per week to fund its operations inside Syria and about $353 million to provide food assistance for the next three months. The money for food assistance goes not only to purchasing the food, but also pays for the complex logistical operation of disseminating it to all the refugee camps.
Other international nongovernmental organizations such as Save the Children, which operates in Syria and works closely with the WFP, are suffering from a lack of funding, Marion McKeone, director for media advocacy and communications at Save the Children, said. The organization has "less than half the money [it] needs to provide basic services," McKeone said.
"More than half of the refugee population in Lebanon lives in substandard accommodation -- disused animal barns, abandoned or unfinished buildings and makeshift shelters made from landfill items, plastic and old potato bags," McKeone said. "Most of the families we work with have absolutely no other resources. Four years into the crisis, any savings or assets they may have once had are long since gone."
The International Federation of Red Cross and Red Crescent Societies, also active in Syria, is developing a new system that could help prevent this kind of scenario from unfolding in the future, particularly in natural disaster zones. The strategy, called the International Disaster Relief Law Guidelines, has gone largely unreported since its formation in 2007, but could help the humanitarian sector better prepare for food distributions.
The guidelines, approved by countries and member states at the 2007 International Conference of the Red Cross and Red Crescent (IFRC), are meant to prevent "red tape blockages of getting assistance to people when they need it and to handle the problem of organizations sending the wrong things" to disaster zones, said David Fisher, coordinator of the Disaster Law Program at the IFRC.
In many humanitarian zones around the world, he said, organizations run warehouses that are often stocked with expired food and bottled water, and at the same time, the food that is needed for distribution is blocked and prevented from entering the country. The guidelines, if implemented correctly, would help prevent that situation. Some countries, including the Philippines and Peru, have created domestic legislation that incorporates the guidelines' basic principles.
"We are about to bring in our first dedicated expert to work on this in the Middle East and North Africa region," Fisher said. "We have been solicited for advice in Lebanon."
For now, though, the U.N. food agency is asking people to donate one U.S. dollar to help the aid effort in Syria. It is hoping to raise 64 million one-dollar donations from individuals to get the food voucher program started again. The WFP is asking people to donate via its website until Friday.
"Even one dollar can make a difference," WFP Executive Director Ertharin Cousin said in a statement. "We're saying to people: 'For you it's a dollar, for them it's a lifeline.' "
© Copyright IBTimes 2023. All rights reserved.