LA/Long Beach Port Strike Ends, Goods Begin Moving To Market For Holiday Shoppers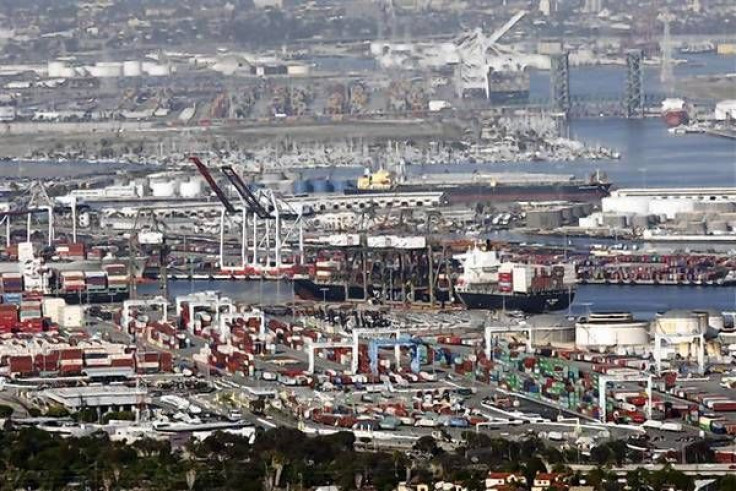 Goods on board freighters that had been held up at the ports of Los Angeles and Long Beach began being unloaded Wednesday after negotiators for employers and unionized clerks settled an eight-day strike. The agreement averts a potential threat to the nation's fragile economic recovery.
Late Tuesday night, negotiators for the 800-member International Longshore and Warehouse Union, Local 63 Office Clerical Union, reached a tentative agreement with representatives of the Los Angeles/Long Beach Harbor Employers Association on a six-year deal, retroactive to June 30, 2010, that must be voted on by the approximately 10,000 regional members of the union.
Details of the tentative pact were not disclosed by either side.
Many U.S. retailers who depend on holiday shopping to earn an annual profit, were worried that the inability to unload freighters at the West Coast because of the strike could slash their profits. The National Retail Federation had called on President Obama last week to step in to ensure that the job action would not be prolonged, warning that a lengthy strike could have "a devastating impact on the U.S. economy."
The Commerce Department last week revised its estimate of third-quarter U.S. gross domestic product growth to 2.7 percent annualized rate, up from the initial estimate of a 2 percent gain, but details of its revision indicate that growth has probably slowed in the fourth quarter and will continue to slow in early 2013.
Union officials declared the agreement a win for organized labor.
"This victory was accomplished because of support from the entire ILWU family of 10,000 members in the harbor community," ILWU International President Robert McEllrath said, in a statement.
Analysts agreed, in large part because of the way the deal was reached. Los Angeles Mayor Antonio Villaraigosa, himself a former union leader, summoned federal mediators but when they arrived the negotiators already were voting on a tentative agreement.
"When unions are weak, they badly want mediators, and when they are strong, they sometimes don't," Nelson Lichtenstein, who directs the Center for the Study of Work, Labor and Democracy at UC Santa Barbara, told the Los Angeles Times. "This was a sign that the union felt it was dealing from a position of strength."
The union said its strike, which held back an estimated $760 million of ship-borne cargo per day, was because of employers' practice of sending jobs out of the area, "to Texas, Taiwan and beyond," according to a union statement.
Salaries and benefits, on the other hand were not the key issue. Unionized workers make an average of about $87,000 per year, which with benefits brings total annual compensation to around $165,000 per year, the employers said.
"We know we're blessed," Trinnie Thompson, one of the strikers, told the Wall Street Journal.
The strike began Nov. 27 and quickly resulted in the idling of 10 of the ports' 14 terminals. Some freighters were perted to other West Coast sites, and others went to Mexico and Panama.
© Copyright IBTimes 2023. All rights reserved.