Laquan McDonald Shooting Update: Chicago Police Reports Say Teen Swung Knife, At Odds With Video Footage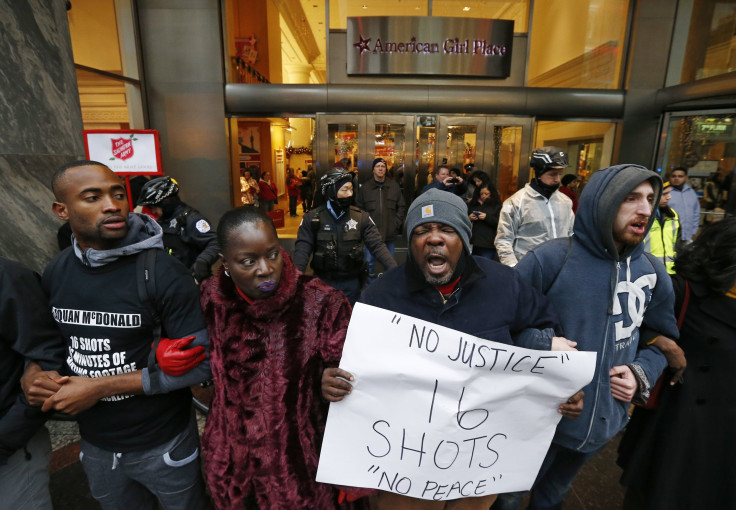 Chicago officials released hundreds of pages of reports late Friday on the fatal shooting of Laquan McDonald that contradicts the squad car video footage that sparked protests across the city. According to the Chicago police, an independent police body conducts all investigations of officer-involved shootings.
The documents reportedly state that at least five officers, including Officer Jason Van Dyke, said that 17-year-old McDonald approached officers while armed with a knife, even though the videotape of the October 2014 shooting showed McDonald veering away from officers before he was shot 16 times. At least one of the officers said in the report that the black teen advanced on the officers and swung his knife at them in an "aggressive, exaggerated manner" before he was shot and killed.
Officers also claimed that McDonald tried to lift himself off the ground with the knife even after being shot repeatedly by Van Dyke, the Chicago police officer who was charged last month with the murder of the teenager.
"In defense of his life, Van Dyke backpedaled and fired his handgun at McDonald, to stop the attack," one document reads, according to the Associated Press (AP). "McDonald fell to the ground but continued to move and continued to grasp the knife, refusing to let go of it."
Video footage of the shooting was released the same day as Van Dyke's murder charge, triggering protests and calls for authorities, including Mayor Rahm Emanuel, to resign.
In a statement released late Friday, police spokesman Anthony Guglielmi reportedly said that Chicago police turned over all evidence to the Independent Police Review Authority, which conducted the probe into the shooting. He said that the U.S. Department of Justice is also investigating McDonald's fatal shooting, and if the criminal investigation finds any wrongdoing, the department will take necessary and quick action.
© Copyright IBTimes 2023. All rights reserved.