Latin American Countries Are The Worst In The World In Math, Science And Reading, OECD Study Finds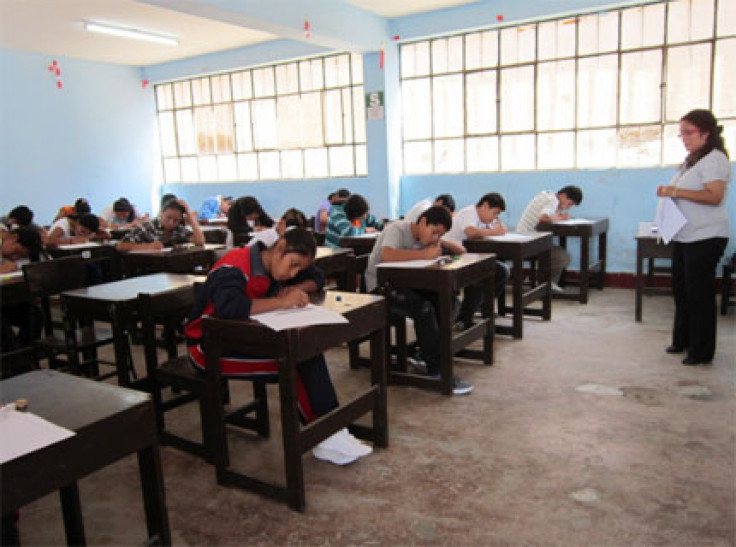 Despite efforts and promises by Latin American governments to the contrary, the region's countries are not doing so well in terms of education. Such is the conclusion of the PISA report on Education 2012, released Wednesday by the Programme for International Student Assessment of the Organization for Economic Co-operation and Development (OECD).
The report measured the aptitudes in math, science and reading in more than half a million students between ages 15 and 16 in 65 countries. All 34 OECD nations were polled, along with 31 other states, which together make up 80 percent of the world's population. The scores were on a 1,000-point scale, where the OECD average was 494.
The eight Latin American nations included in the report ranked in the bottom 10 percent, making the region the lowest scoring of all those polled. Chile came in at number 51 out of 65, making it the best ranking of the region, with scores of 423 in math, 441 in reading and 445 in science.
The worst scorer in the region and indeed the world was Peru, dead last at number 65, with a score of 368 in math, 373 in science, and 384 in reading. Still, its students advanced in reading by an average of 5.2 points a year since the 2009 report.
The biggest economic powers in the region also need to revise their education policies, since both Brazil and Mexico fared well below the average. Mexico was right after Chile in the ranking, at number 53 (413 in math, 415 in science and 424 in reading), and Brazil, the world's seventh-biggest economy, came in at 58 (391 in math, 405 in science and 410 in reading).
As for the second-biggest economy in the region, "if Mexico continues at this rate, it will take the country 25 years to reach the average, and over 65 for reading," according to the report.
Other countries in the region included in the report were Uruguay (55), Costa Rica (56), Argentina (59) and Colombia (62). Still, Latin America was the region where students are the happiest at school, with Peru, Colombia, Mexico and Costa Rica all in the top 10.
On a global scale, Shanghai -- which was measured separately from the rest of China -- scored the highest, with an average of 613 in math. It was followed closely by Hong Kong, which was also considered separately from the Chinese mainland, Singapore, Japan and Finland. The U.S. ranked 36th, scoring average in reading and science, but below average in math.
© Copyright IBTimes 2023. All rights reserved.