Launch America: NASA Administrator Says SpaceX's Success Is 'Just The Beginning'
KEY POINTS
NASA astronauts Doug Hurley and Robert Behnken successfully returned to Earth
NASA Administrator Jim Bridenstine says the success is 'just the beginning'
Under NASA's Artemis program, the goal is to send astronauts back to the Moon
SpaceX's Crew Dragon safely brought NASA astronauts Robert Behnken and Doug Hurley back to Earth, marking an end to a historic two-month mission. According to NASA Administrator Jim Bridenstine, the mission's conclusion is "just the beginning."
On Sunday, Aug. 2, at 2:48 p.m. EDT, the SpaceX Crew Dragon successfully splashed down in the Gulf of Mexico two months after the historic launch that took U.S. astronauts to the International Space Station (ISS) using rockets launched from American soil for the first time after nearly a decade. Apart from beginning a new era in spaceflight, Behnken and Hurley's homecoming also marks the first splashdown for an American crew spacecraft since the end of the Apollo-Soyuz Test Project on July 24, 1975.
"Congratulations to the entire SpaceX and NASA team on such an extraordinary mission," SpaceX President and Chief Operating Officer Gwynne Shotwell said in a news release from NASA. "We could not be more proud to see Bob and Doug safely back home — we all appreciate their dedication to this mission and helping us start the journey towards carrying people regularly to low Earth orbit and on to the Moon and Mars. And I really hope they enjoyed the ride!"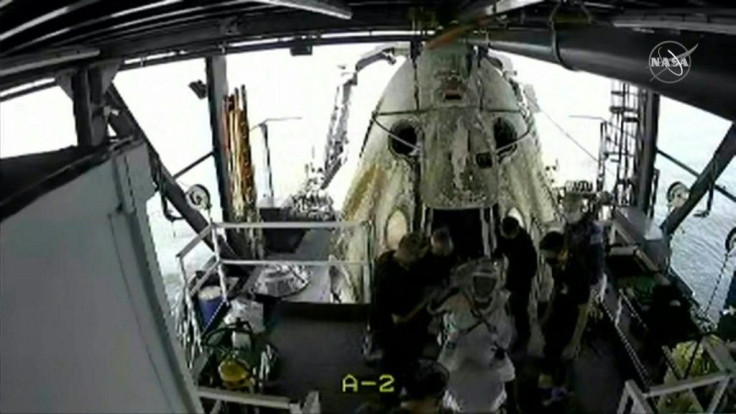 "Today was a great victory, but it was just the beginning," Bridenstine said. "The Artemis program is our sustainable return to the Moon."
Even as NASA and SpaceX are already preparing for future crewed missions to the ISS, one later this year and another mission in 2021, under the Artemis program, the ultimate goal is to bring American astronauts to the Moon by 2024 and to establish sustainable exploration by 2028.
Through the program, NASA aims to explore more of the Moon "than ever before" and to use the knowledge gained from those missions in future plans of sending astronauts to Mars.
With the success of SpaceX's Demo-2 test flight under NASA's Commercial Crew Program, which has the goal of providing safe, cost-effective and reliable transportation to and from the ISS, there could be more research and preparation time for future explorations to the Moon and, eventually, Mars.
"I'm the first NASA Administrator in history that was not alive when we had people living and working on the Moon," Bridenstine said. "We have to make sure that another generation doesn't miss this opportunity."
© Copyright IBTimes 2023. All rights reserved.