Lawmakers Slam Proposal To Use Medicare Money To Help Americans Who Lose Jobs Due To Free Trade Agreements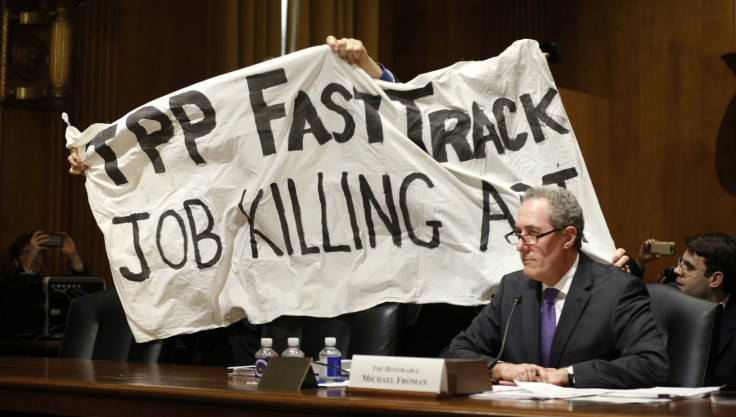 Members of the Congressional Progressive Caucus are sounding alarm bells over an attempt to take $700 million in Medicare spending and use it instead to train American workers who lose their jobs because of trade deals like the controversial Trans-Pacific Partnership (TPP). Critics say the move to use millions slated for Medicare would set a bad precedent of using money that should go to social insurance to pay for unrelated government programs.
"Ten thousand people turn 65 every day. We should be expanding Medicare, not stealing from it," Rep. Jan Schakowsky, D-Ill., said during a conference call with journalists on Thursday. "Medicare is not the ATM for everything that we want to provide."
The issue centers on the government's Trade Adjustment Assistance (TAA) program, a 53-year-old program that helps Americans who lose their jobs because of trade deals with other countries. For example, an agricultural producer can receive subsidies if agricultural imports from trade-partner countries undercut its business. Eligible workers can win benefits through the TAA if their jobs are sent to countries with which the U.S. has free-trade agreements.

Congress wants to boost funding to the TAA as it mulls giving President Barack Obama the authority he seeks to finalize the Trans-Pacific Partnership (TPP) trade deal with 11 Pacific Rim countries. Rep. David Reichert, R-Wash., has proposed carving $700 million out of Medicare reimbursements -- the money the federal government provides doctors and hospitals for treating the elderly who often live in low, fixed incomes -- to help fund a $2.7 billion TAA extension.
Though Republicans and many Democrats, including the president, support the TPP and believe it will create jobs by promoting U.S. exports, they accept that some parts of the U.S. economy will be undercut by cheap imports and jobs that migrate overseas.
Rep. Keith Ellison, D-Minn., said Thursday that assistance to Americans who lose jobs because of of the TPP, "should be paid for by the multinationals that will benefit from this trade deal."
© Copyright IBTimes 2023. All rights reserved.