Lidia Sobieska Release Date: 'Tekken 7' Welcomes Polish Prime Minister With Karate Martial Arts Skills
KEY POINTS
Lidia Sobieska is designed with platinum blonde hair tied into a ponytail
The Mishima Zaibatsu has a major role in her backstory
A new stage called Island Paradise will release alongside the fighter
"Tekken 7" was released for arcades in 2015, followed by home consoles and PC version in 2017. Developer and publisher Bandai Namco continuously supported the game with several DLC bundles since it came out. After some details were teased in February, Lidia Sobieska finally makes her debut.
Lidia Sobieska: Polish Prime Minister
Earlier this month, EventHubs shared more details sourced from what the game studio has provided in addition to special care packages that were sent out to select people. According to the in-game lore, the newcomer was reportedly the prime minister of Poland.
The official trailer for Sobieska presents her as a youthful public official. Although a short video clip posted by Bandai Namco before had her in formal attire, it seems she wears a different one by default. Still, the other outfit could be an alternate costume like on most of the other characters in the roster.
Sobieska is designed with platinum blonde hair tied into a ponytail. A red ribbon can also be seen wrapped around her head like a hairband. She has blue eyes with a scar over her left eye.
Polish Karate
Her standard costume shows a sleeveless black/red sports top inside a white karate gi with the upper half removed and hanging freely by the belt. Her core fighting style appears to be karate with a mix of other martial arts based on the gameplay video.
It looks like her story will see her battle against the Mishima clan, but her motivations for doing so are still unclear. It was hinted before that the Mishima Zaibatsu has a major role in her backstory, but gamers need to wait for her arrival to find out.
An article posted by EventHubs several weeks ago reveals that Bandai Namco sent special care packages to some publications and personalities involved with the "Tekken" franchise. A Tweet from Reepal "Rip" Parbhoo read: "Lidia Sobieska - Prime Minister of the Republic of Poland - Polskie Karate – Potega."
Inside the box was a cloth face mask like the one worn by Bryan Fury, a hoodie with the Mishima Zaibatsu logo, a karate obi, and a letter. The latter is supposedly sent by Heihachi Mishima asking the Sobieska to participate in the Tournament.
Players can purchase the new fighter separately, while those who own the "Tekken 7" Season Pass 4 will get her for free along with a new stage called Island Paradise. Bandai Namco says the latest content will go live on March 23, 2021.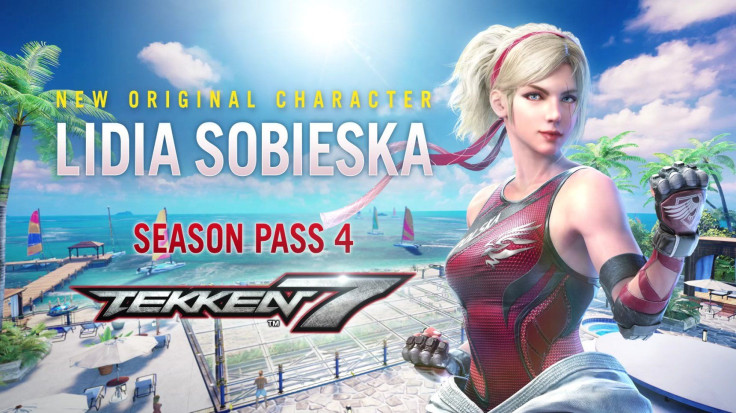 © Copyright IBTimes 2023. All rights reserved.