Live Music Another First For Discovery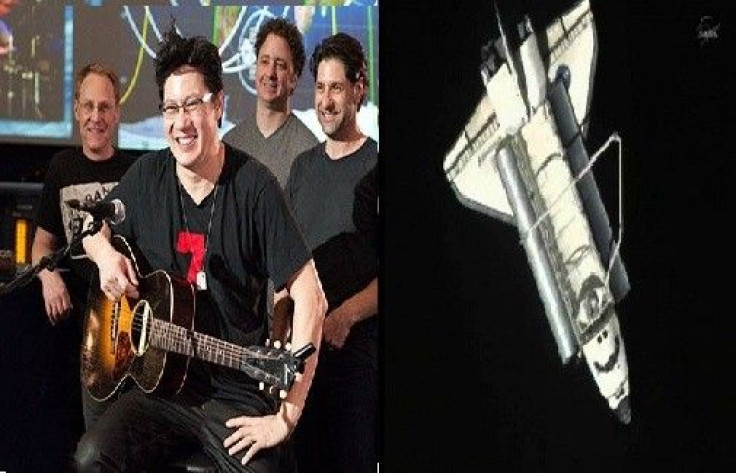 It's been a memorable trip for the final crew of the space shuttle Discovery.
Over the course of its 13-day trip, the crew members have installed the Permanent Multipurpose Module, talked with President Barack Obama and been awakened by William Shatner playing Captain James Tiberius Kirk. Now they get the chance to hear live music. On their last full day in space, the crew's wake-up call was a live rendition of the song Blue Sky by Big Head Todd and the Monsters.
Big Head Todd and the Monsters lead vocalist and guitarist, Todd Park Mohr, performed the song accompanied by bandmates Brian Nevin, Rob Squires and Jeremy Lawton. It was the first time a shuttle crew has been awakened by live music from Mission Control in Houston.
The band's song Blue Sky was written as a tribute for Discovery's return to flight mission (STS-114) in 2005. The song received the most votes in NASA's Top 40 song contest. The top two songs were played as wakeup music. Blue Sky, had 722,662 votes while the second place song, The Theme From Star Trek, received 671,133 votes. The Star Trek theme was played Monday with the special introduction from Shatner.
On behalf of Big Head Todd and the Monsters and songwriters and artists everywhere, we just want to thank you so much for your courage, your bravery and your effort in just giving all of us a better shot at knowing more, Mohr told Lindsey and the crew. It's very inspirational to the arts as well.
We all wish you could see what we can see when we look out at the Earth; and hopefully, everybody will be able to do that one of these days. Hopefully sooner rather than later, Commander Steve Lindsey said to the band.
The rest of the crew's day will be spent primarily on preparations for Wednesday's landing, which is scheduled for 10:57 a.m. Eastern at Kennedy Space Center in Florida. They will be performing standard checks and are scheduled to pay tribute to the space shuttle Discovery, which will be retired after tomorrow's landing.
To contact the reporter responsible for this story call (646) 461 6920 or email g.perna@ibtimes.com.
© Copyright IBTimes 2023. All rights reserved.