Locusts In Madagascar: UN Needs $41 Million To End The Plague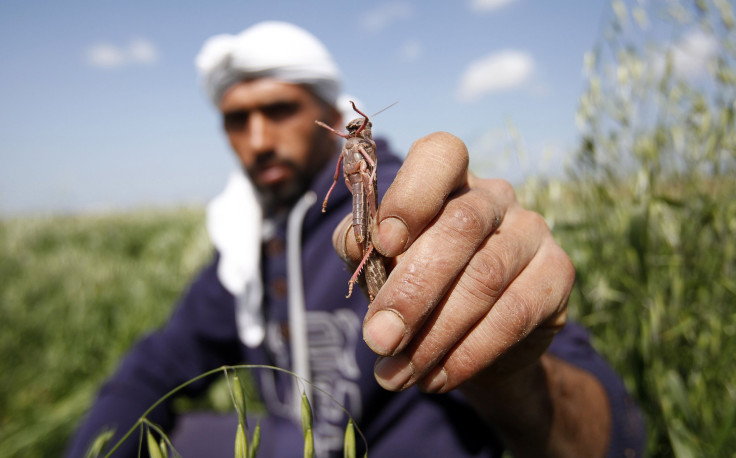 About half of the island nation of Madagascar is infested with locusts. This has mysteriously happened during Passover, despite the fact that there are probably very few Jews in Madagascar (pop. 13 million, 41 percent of whom are Catholic, 7 percent Muslim, and the rest adherents of local traditional cults, on whom the Biblical reference may be lost).
Without reference to the Ten Plagues of Egypt, The Food and Agriculture Organization issued a call Tuesday for $41 million in pest control. The first installment of $22 million is needed by June, the FAO said, and another $19 million is needed for a three-year strategy. The FAO also said about two-thirds of the country will be infested by September of this year if nothing is done.
The 226,658 square-mile (587,000 square-kilometer) island of Madagascar in the Indian Ocean has been in a state of "locust alert" since November 2012. A similar emergency appeal was made last summer. The national Locust Control Centre said they've treated 30,00 hectares (about 74,000 acres) of crop land, but there are still 100,000 hectares (250,000 acres) of land that need treatment.
While locusts do not pose a direct danger to humans, an adult locust can consume about two grams of food per day. A swarm of locusts can eat the same amount in one day as 2,500 people, the FAO estimates. Typical locust food is anything vegetable and green.
According to the U.N. statement, "The plague now threatens 60 per cent of the country's rice production, a staple crop in Madagascar, where 80 per cent of the population lives on less than $1 per day. The locust swarms are also consuming green vegetation that might normally serve as pasture for livestock."
Previously on Odyssey of the Locusts, we were in Egypt, where the Ministry of Agriculture was claiming no damage to crops had been done, despite the fact that this year's locust cloud was unusually big compared to previous years.
Locust reports also came out of southern Israel around the same time.
© Copyright IBTimes 2023. All rights reserved.