LOOK: Tesla Model Y Pictures Reveal New 'Turbine Wheels'
We can still remember the "Oohhs" and "AAhhs" that greeted the reveal of those stunning aluminum 13-spoke "Wind Turbine Wheels" during the original unveiling of the Tesla Model 3 electric four-door sedan back in 2016.
Some expected these eye-catching sculptures painted in gun metal grey, which almost stole the thunder from the Model 3 at its unveiling, to become standard on this electric car. That never happened. What owners got instead were those arresting 18-inch "aero wheels" that come as standard on the Tesla Model 3.
Tesla also produced the five "V" spoke wheels unveiled on the original prototypes as a 19-inch Sport wheels option. So, what happened to the artsy turbine wheels?
They've been spotted on a bunch of Tesla Model Y prototypes now being driven throughout California as part of their test packages. Speculation is Tesla will make the turbine wheels the actual base wheels on the Model Y SUV slated for its first deliveries in the fall of 2020.
The Tesla Owners Online, one of those that spotted the turbines, tweeted: "The old Model 3 turbines are baaaack."
But the current online specs for the Model Y still retain the aero wheels and the V spoke wheels as standard to this upcoming electric vehicle (EV). Tesla watchers, however, are heartened the Model Y prototypes sighted on California's public roads all sport the turbine wheels. The Model Y prototypes have been spotted in other states as far away as Michigan, as well.
In 2018, Musk said Tesla planned to make the awesome turbine wheels -- a creation of Finnish car designer Joonas Vartola -- available as an aftermarket upgrade later that year but this plan didn't pan out. But perhaps this creation was just waiting for the right EV, the Model Y, to come along.
Some Tesla pundits believe the turbines will indeed be brought into production as Musk promisedf in 2018. If these wheels don't come as standard to the Model Y, they might be supplied as an aftermarket option for the Model 3. Both the Model 3 and the Model Y are expected to have the same wheel format, which is great for the turbine wheels.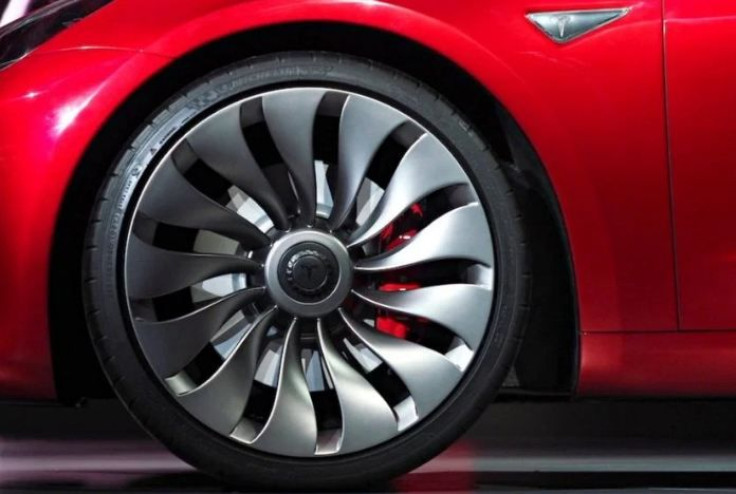 © Copyright IBTimes 2023. All rights reserved.