Loretta Lynch Ceremony Live Stream: Obama, Justice Sotomayor Formally Install Top US Law Enforcement Official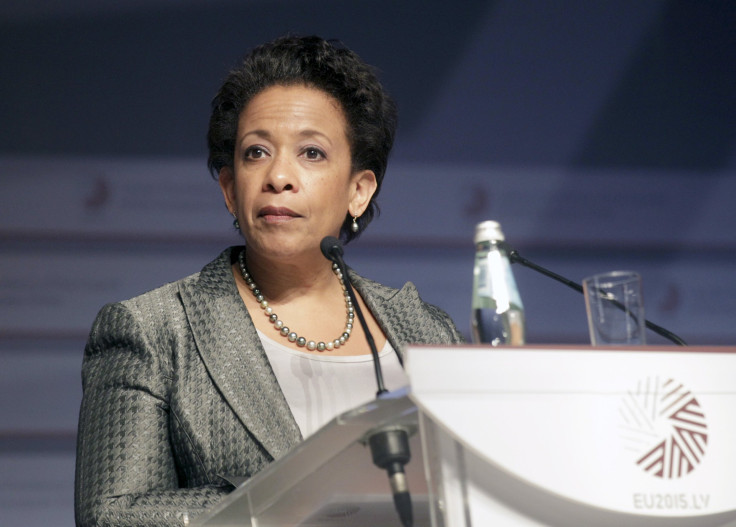 U.S. Attorney General Loretta Lynch is expected to participate in a investiture ceremony Wednesday that will formally install her as the nation's top law enforcement official. The ceremony, scheduled to take place at 10:30 a.m. EDT at the Warner Theatre in Washington, will include remarks by President Barack Obama, according to the White House. Officials said U.S. Supreme Court Justice Sonia Sotomayor will administer the oath of office for Lynch, the 83rd attorney general and the first African-American woman confirmed to the position.
To watch a live stream of the ceremony, click here. Lynch waited 167 days to be confirmed, after Senate Republicans held up a vote on her nomination because of abortion language in a human-trafficking bill. She was confirmed on April 23, in a 56-43 vote. Since her confirmation, Lynch has launched an investigation of the Baltimore Police Department, in the wake of the police-involved death of Freddie Gray in April. She has also charged high-ranking current and former FIFA officials connected to a bribery scandal last month.
Lynch, 56, served as the U.S. attorney for the Eastern District of New York, which includes Brooklyn, Queens, Staten Island and Long Island. During her tenure as a federal prosecutor, she successfully tried a case of police brutality against Abner Louima, the Haitian immigrant who was sodomized with a plunger and beaten while in custody of the New York Police Department. She had also previously worked as a corporate attorney, defending people charged with white-collar crimes.
Obama nominated Lynch last November to succeed former U.S. Attorney General Eric Holder, the first African-American to serve in the post. The confirmation vote delay was criticized by Democrats and civil rights leaders, some who blasted the delay as thinly veiled racism by white Republican leadership. The Rev. Al Sharpton launched a hunger strike that lasted until Lynch's Senate confirmation vote was held. Lynch's wait for a vote was longer than the last seven attorneys general nominees combined, several media outlets reported.
On Wednesday, Lynch also joined Twitter.
© Copyright IBTimes 2023. All rights reserved.