Louis Vuitton Looks To Acquire Tiffany & Co. For $14.5 Billion
Paris-based LVMH is looking to acquire American luxury brand Tiffany & Co.
French luxury major LVMH is a parent company of Louis Vuitton, Moët Hennessy, and other brands. The $14.5 billion offer values Tiffany at $120 a share, nearly 22 percent more than the company's closing price on Friday, per stock market news.
LVMH is controlled by the Arnault family with Bernard Arnault, France's richest man leading the group. Tiffany is famous for its diamond engagement rings and operates more than 300 retail stores globally with its head office in New York.
If the deal materializes it will be LVMH's largest purchase and surpass the $7 billion Christian Dior takeover of 2017, per Bloomberg.
Deal uncertain
The all-cash bid is being evaluated by the jeweler and there is no guarantee that it may be accepted, reports said.
"Tiffany could prove an interesting fit to LVMH, which is still underpenetrated in jewelry," noted Deborah Aitken, a senior luxury-goods analyst at Bloomberg Intelligence.
However, a Financial Times report on Sunday said Tiffany might reject the offer as undervalued. Representatives for LVMH and Tiffany did not comment.
LVMH seeks market expansion in the US
LVMH has been eyeing to expand its U.S. presence. The acquisition would gift LVMH an iconic 182-year-old U.S. brand valued about $11.9 billion. LVMH has a market capitalization of about $215 billion.
LVMH owns the Bulgari jewel and watches brand, Sephora cosmetics stores, Dom Perignon Champagne and Hublot watches.
Increasing the U.S exposure, LVMH in October opened a new Louis Vuitton factory in Texas and made Trump news as the event was attended by President Donald Trump and daughter Ivanka.
In jewelry, LVMH is not as strong as in fashion. Adding Tiffany would expand its potential with many accessible offerings.
The branded jewelry market is growing 6 percent a year compared to the segment of high-end watches. Buying Tiffany could help LVMH compete against major rival Swiss giant Richemont, the owner of Cartier and Van Cleef & Arpels.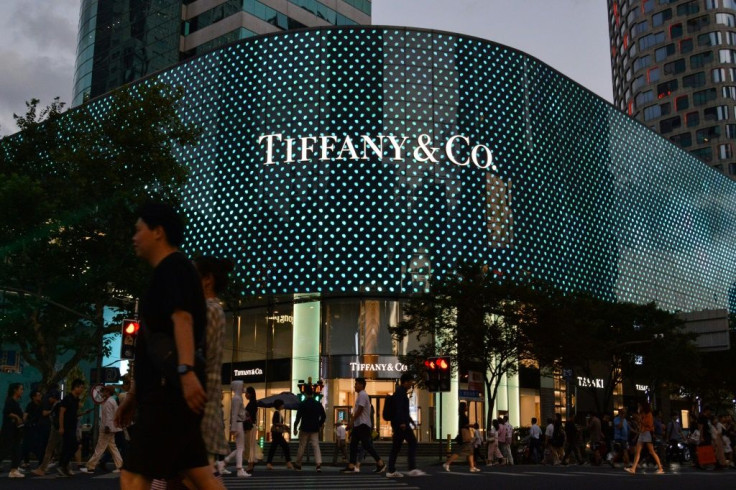 Tiffany has been battling the tariffs on its exports to China and a Chinese domestic sales tax also hurting the sales growth.
LVMH, in October, beat sales forecasts for the third quarter despite the unrest in Hong Kong, one of the leading markets.
In August, Tiffany also reported quarterly earnings exceeding analysts' expectations, because of reduced marketing costs. But global sales of Tiffany tanked in the first half of 2019 by 3 percent to $2.1 billion, the company said in August.
© Copyright IBTimes 2023. All rights reserved.