'Lucky Jew' Statues: Are Polish Figurines A Symptom Of Anti-Semitism Or Just In Bad Taste? [PHOTO]
WARSAW, Poland -- Shortly after receiving a sneak peek of the Museum of the History of Polish Jews (there are no exhibits yet: the museum is to open to the public in 2014), I walked along the cobblestone streets of the Old Town section of Warsaw for some sightseeing, when something caught my eye.
A shopkeeper was selling the souvenir staples: long Polska scarves for the chilly Polish winters, Poland magnets, and untraditional tourist fare like a statue of what, at first glance, appeared to be an innocuous, even cute, depiction of a religious Jew. At first I thought maybe my family back home would enjoy it.
Then I looked closer. The Jew, wearing a yarmulke and tallit, had a large, hooked nose. In his hand was a shiny coin.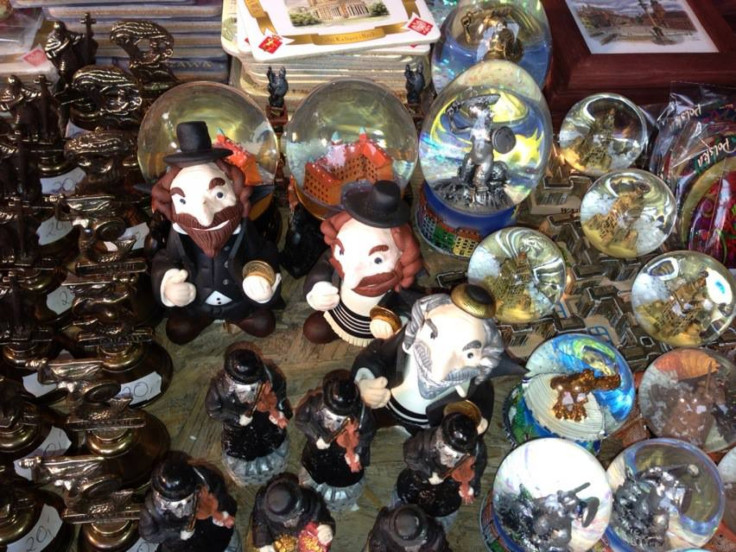 This was disturbing to me, especially just after hearing of the tales of Jews sent to concentration camps and the remnants of the Warsaw Ghetto who died fighting -- due in part to the stereotypes that I saw on the figures. Who buys these things, I wondered? As it turns out, Poles do. Tourists do. Even the head of the Anti-Defamation League. (All for different reasons.)
These ceramic figures, known as "Lucky Jew" statues, are sold throughout Poland. While some say the figurines have long been entrenched in Polish society, they started to become the rage in Poland in the 1990s as the country transitioned from communism to democracy, according to Padraic Kenney, a professor of history and international studies at the University of Indiana.
"This is a very recent phenomenon in Poland," said Kenney, who is also the director of the university's Polish Studies Center. "It turns out it's an image where for Poles, it's a good luck charm. It's hard to get one's head around this."
Besides "Lucky Jew" statues, oil paintings depicting Jews holding coins are also popular in Poland. According to tradition, owners of such paintings are supposed to hang them upside down so the Jew's money flows into their home.
Those who own the statues and paintings believe "if you have one of these images, it's going to bring good luck and it will bring financial luck," Kenney explained. "It's become this folk belief."
The figurines are not just sold on the streets of Warsaw and other major Polish cities. Surprisingly, kosher restaurants hand them out while giving you the bill.
How can anti-Semitic stereotypes of this kind hang on?
"It's become kind of a ubiquitous thing to the extent that people who would probably describe themselves as philo-Semitic would see nothing wrong with this," Kenney said.
Antony Polonsky, professor of Holocaust studies at Brandeis University in Massachusetts, said he believed the figures weren't an expression of hatred towards Jews.
"I don't regard them as anti-Semitic," he said. "I think they're in bad taste, personally. And I think it's unfortunate that there's a rather unsophisticated part of the public that thinks Jews bring good luck."
Abraham Foxman, national director of the Anti-Defamation League, disagrees.
"I think most of it is ignorance, but it stems out of an anti-Semitic canard," he said. "It's a classic anti-Semitic canard -- the Jews are good with money, the Jews hoard money."
Foxman has purchased the "Lucky Jew" figures on visits to Poland and keeps them in his office to show guests.
"I have in my office a collection. All shapes, all sizes. It's unbelievable," he said. "Not since Poland became free [from communism] has it become such a popular item. You can buy it in the streets, in the malls, in the restaurants. This is not history. This is today."
Foxman said the Polish Jewish community is "unwilling" to do anything about the "Lucky Jew" statues in part because the figures are viewed with both revulsion and bewilderment.
"I ask that they begin an educational program so people understand this is not a compliment," he said, referring to the belief that Jews are obsessed with, and adept at, handling money.
While merchants openly selling such figures may come as a shock to Americans, the practice isn't necessarily a symptom of growing anti-Semitism in Poland.
Polonsky estimated that between 25 and 30 percent of Poles have traditional or modern anti-Semitic views (anti-Semitism linked to religion) but that the large majority of the population regards anti-Semitism as shameful.
"Of the countries of East Central Europe, Poland has made the most successful transition to a market economy," the professor pointed out. "Because of this, anti-Semitism has been marginalized."
Kenney also disputed that the "Lucky Jew" statues are a symptom of anti-Semitism in Poland.
He noted that the Polish Jewish population has exploded tenfold since 1990, mainly by young Poles discovering their Jewish heritage from a grandparent on their deathbed rather than by Jewish migration. There are between 30,000 and 50,000 self-identified Jews in Poland today. And those that find out about their Jewish ancestry are curious to learn more instead of being shameful about the revelation.
The history of Polish Jews is also being thrust into the spotlight with next year's opening of the Museum of the History of Polish Jews, which has received $105 million in funding so far. Of that $105 million, $60 million is from the Polish Ministry of Culture and National Heritage.
The museum's footprint encompasses some of the old Warsaw Ghetto and is expected to open in 2014 -- on the 71st anniversary of the Warsaw Ghetto uprising.
Now, once-ignorant shopkeepers are being accommodating to Jewish feelings after learning about problems with the figurines. Some merchants are swapping the coins the statues are holding for violins to showcase more positive aspects of Jewish culture, such as klezmer music, according to Foxman and Kenney.
© Copyright IBTimes 2023. All rights reserved.