Mahindra & Mahindra Plans To Sell Reva E20 Electric Car In Europe This Year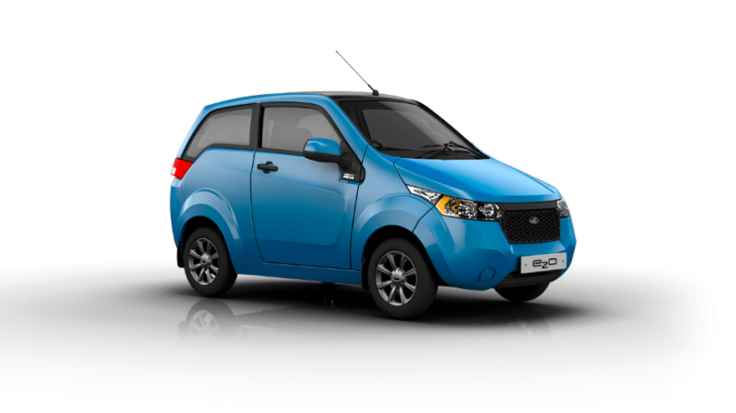 Just two years ago, the Indian government said the country could have seven million electric cars on its roads by the end of the decade, preventing 2.5 million metric tons of gasoline from being converted into greenhouse gases and toxic emissions. But, a lack of tax incentives and adequate charging infrastructure has stalled those lofty ambitions.
This means the country's only domestically produced electric vehicle (EV), the Mahindra Reva e20, will have to be sent to developed markets to survive. Mahindra & Mahindra Limited, India's largest SUV manufacturer and maker of the e20, says it's going to start selling the tiny EV in Europe by the end of the summer. Also, in an extremely cost-conscious market, a car that costs upwards of $10,000 and can comfortably seat only two is proving to be a hard sell.
"The way electric vehicle technology is growing in Europe, we expect it to play an important role there. We are also looking at the opportunity to launch our electric vehicle there and expect to do so in next six months," Pravin Shah, the head of automotive global operations at Mahindra & Mahindra, told the Press Trust of India on Tuesday.
Mahindra & Mahindra got into the EV business in 2010 after it bought the Reva Electric Car Company -- an India-U.S. electric-vehicle joint venture founded in 1994. Since then, Bangalore-based Mahindra Reva has emerged as India's top developer of electric cars. In 2013, Mahindra Reva was named by Fast Company Magazine (along with Tesla Motors) as one of the most innovative companies of the year.
However, the e20 is struggling in India and Shah said his company is selling less than 1,000 cars a year. In comparison, the Maruti Alto, produced by India's largest car maker, Maruti Suzuki India Ltd., sold over 260,000 units last year to become the world's best-selling small car in 2014. The Alto, which has now been discontinued, had a base price of about $5,000.
Demand for the e20 has also lagged because India lacks the necessary charging infrastructure to reassure environmentally-conscious consumers who might otherwise be prepared to pay a premium for an electric vehicle.
Meanwhile, the Reva has had modest success in the 24 countries where the company licenses its EV technology to other automakers. And, the company is also targeting small island nations with a view that driving distances in these markets might be better suited to the car's range, Autocar India reported last year.
Shah didn't provide many details, but the key to the e20's success will be the price tag. A car that is marketed to middle-class, eco-conscious Indian consumers will now have to target European customers who also have the option to consider the Renault Zoe or Nissan Leaf. The Leaf is by far the best-selling electric vehicle ever made, and the Renault-Nissan alliance enjoys broad brand recognition on the continent that Mahindra Reva doesn't. Cost will be the key to luring consumers to an Indian-made electric car, especially because its 75-mile range is about 10 miles short of other low-cost EV city cars sold in Europe.
Shah said the e20's success will hinge on its ability to take advantage of government green-car incentives in markets abroad. Meanwhile, back home in India, Shah's company is pushing hard to get New Delhi to take cues from more developed EV markets to kick-start a domestic market for battery-powered cars. Only two years ago, there were 25 Indian firms working on electric vehicle technology and now, there are about five, he said.
"We are expecting some sort of allocation in the budget that'll help in making the electric vehicles more affordable for consumers, as the current cost is very high," Shah said last weekend, according to India's Business Standard newspaper.
Earlier this month, Mahindra Reva's CEO Chetan Maini, also known as the technical head of the electric vehicle venture, announced he'd be leaving the unit for another position within the Mahindra & Mahindra group. He will be replaced by Arvind Mathew, the former managing director of Ford India, starting May 1, Autocar India reported.
© Copyright IBTimes 2023. All rights reserved.