Majority Of Catholics Support Gays And Lesbians: LGBT Community Reacts To Synod Report Online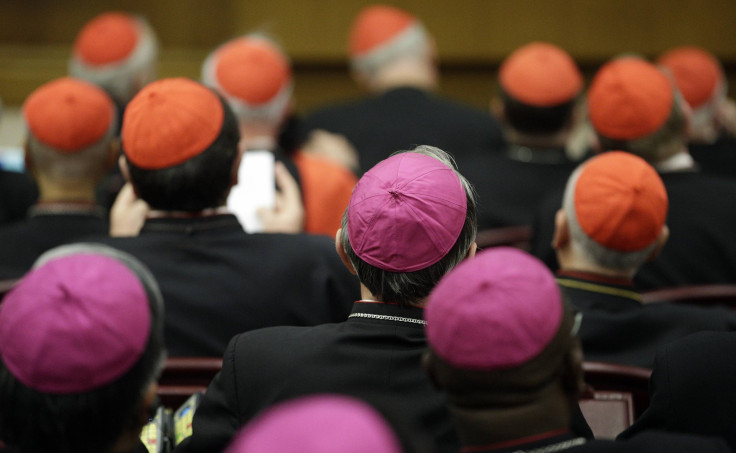 One week after an assembly of Roman Catholic bishops was lauded (and condemned in some quarters) for expressing acceptance of gay people, the Vatican City synod approved a final report that dialed back the language of the earlier draft. The watered-down document outraged many gay rights groups, gay Catholics and their supporters, who took to social media to share their frustration. Many commentators were more disappointed than surprised by the church's ultimate refusal to shift its stance on same-sex marriage. But the more welcoming language of the synod's first draft had raised hope, before dashing it.
I'm a loyal Catholic but at the same time I have nothing against gay people...one if those things
— Tshepiso Mogase (@PISGAS) October 19, 2014
Pope Francis' comment, early in his papacy, that he didn't "judge" homosexuals was seen as a major step forward for the LGBT community. Gay Catholics and their supporters were closely watching this synod, convened by the pope, and were cautiously optimistic when the earlier version of the "relatio" (report) was published. The document described gay people as possessing "gifts and qualities to offer the Christian community" and acknowledged the "precious support" same-sex partners give one another.
That was before the rewrite. "Men and women of homosexual tendencies must be welcomed with respect and sensitivity," the final document states. But the section that had been titled "welcoming homosexual persons" was now called "pastoral attention to people of homosexual orientation." There is "not even a remote" comparison between heterosexual marriages and same-sex unions, the report takes pains to point out.
That passage was approved by 118 bishops at the synod; 62 voted against it. Many Catholics in the pews seem to agree with the dissenting bishops.
"There's been a few occasions when I've met new people and told them I'm Catholic and instantly, they asked me the question 'Do you not like gay people then?' I think it's shocking," Alex, a 16-year-old student in the U.K., told International Business Times. (She asked to be identified by her first name only.) "Whether it's due to the media or to the Vatican, there's now a stubborn stereotype of us. When I tell them my ideas the majority accept it whilst some challenge ideas further. I'm a liberal Catholic and that's it. However, some simply can't believe that."
Alex has been Catholic since birth. She attended Catholic school and wants to become a Catholic school teacher: She asked IBTimes not to publish her last name for fear it could affect her chances of being hired. (Catholic institutions have been known to fire employees who are not aligned with the church's teachings.) With gay family members on both her mother and father's side of the family, she said, homosexuality was never seen as immoral.
"I simply think it's wrong for people to disagree against someone's right to demonstrate their love for another being," she said in an email. "Yes [the Bible] does say that the act of homosexuality is a sin but it also says to stone a woman if she gets divorced."
According to a recent Pew research poll, 85 percent of American Catholics between the ages of 18 to 29 said that homosexuality should be accepted by society. While that number dropped among older individuals, even among Catholics ages 65 and older, 57 percent said that homosexuality should be accepted.
Two major Catholic gay advocacy groups, New Ways Ministry and DignityUSA, called the synod report "disappointing" -- but said they appreciated the frank conversations that took place.
"A lot has changed," said James Bretzke, a professor of moral theology at Boston College. "We're having really open discussions on these areas that we had not had in the church before. Past discussions were veiled and coded. They didn't have the same transparency this synod has had."
"I think the church is voting clearly in this direction and it will likely continue to move like this," Bretzke said.
"I think social change legitimately has to come slowly if it's going to be broad-based," Bretzke said. "What Pope Francis is trying to do, is avoid the same mistake Pope Paul VI made in the last 10 years of his papacy. He is not trying to get too far in front of the church while at the same time trying not to pull the church back to some position that existed during some hypothetical golden age."
Stephen Lovatt, a gay Catholic who self-identifies as orthodox, said it is too early to evaluate what took place at the synod. He welcomed the open discussion of the family, contraception, same-sex marriages and divorce -- some of the topics at the synod -- but said a great deal more work remains.
"What is needed is a root and branch re-examination of the entire corpus of official Catholic teaching on 'friendship, eroticism, sex, procreation and marriage,'" Lovatt said in an email. "Until this is done, no actual progress can be made. All that will happen is that more layers of sticking plaster will be applied to the gangrenous wound that is crippling the church and threatening her life."
FOR FREE to continue reading
✔️ Unlock the full content of International Business Times UK for free
offer available for a limited time only
✔️ Easily manage your Newsletters subscriptions and save your favourite articles
✔️ No payment method required
Already have an account?
Log in
© Copyright IBTimes 2023. All rights reserved.