Malaysia Airlines Flight MH370: Towed Pinger Locators Deployed, Underwater Hunt For Black Box Launched With Hopes Of A Breakthrough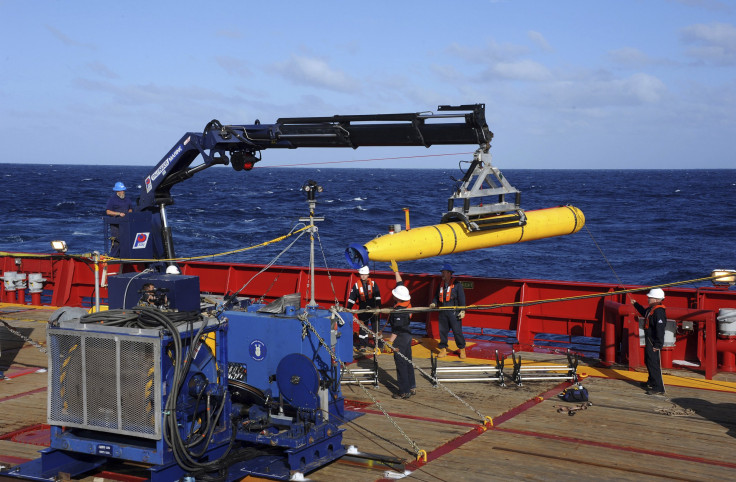 The search for the missing Malaysia Airlines Flight MH370 moved a step further on Friday after two ships with the ability to locate a plane's black box underwater were deployed, Australian officials said, as hopes for a breakthrough in the search for the plane's remains in a desolate part of the southern Indian Ocean fade, with only days remaining before the batteries of the missing plane's recorder are expected to run out.
The Australian Maritime Safety Authority said it has determined a search area of about 83,800 square miles of the Indian Ocean, about 657 miles northwest of Perth, Australia's Joint Agency Coordination Centre reported. A total of 10 military planes, four civil jets and nine ships will be assisting the search Friday when weather conditions are expected to hold up. The plane's data recorders emit a ping that can be detected by equipment called pinger locators, which will be towed by a ship from the U.S. Navy and the British navy's HMS Echo, covering a 150-mile long track.
"The area of highest probability as to where the aircraft might have entered the water is the area where the underwater search will commence," Angus Houston, the head of a joint agency coordinating the search, reportedly said. "It's on the basis of data that only arrived very recently and it's the best data that is available."
The Beijing-bound Malaysia Airlines flight, with 239 people on board, mysteriously vanished on March 8 shortly after taking off from Kuala Lumpur, triggering a massive, international effort involving dozens of countries and agencies, to locate the plane.
On Thursday, Australian Prime Minister Tony Abbott, described the search as "the most difficult in human history" and warned there was no guarantee the missing plane would be found.
"We cannot be certain of ultimate success in the search for MH370," Abbott reportedly said, at a news briefing in Perth, adding: "But we can be certain that we will spare no effort -- that we will not rest -- until we have done everything we humanly can."
William Marks, an official with the U.S. Navy, told CNN: "Really the best we can do right now is put these assets in the best location -- the best guess we have -- and kind of let them go," adding, "Until we get conclusive evidence of debris, it is just a guess."
© Copyright IBTimes 2023. All rights reserved.
FOLLOW MORE IBT NEWS ON THE BELOW CHANNELS