Malaysia Arrests 3 Suspects Linked To Erawan Shrine Bombing; Thailand Says Main Suspect Fled To Turkey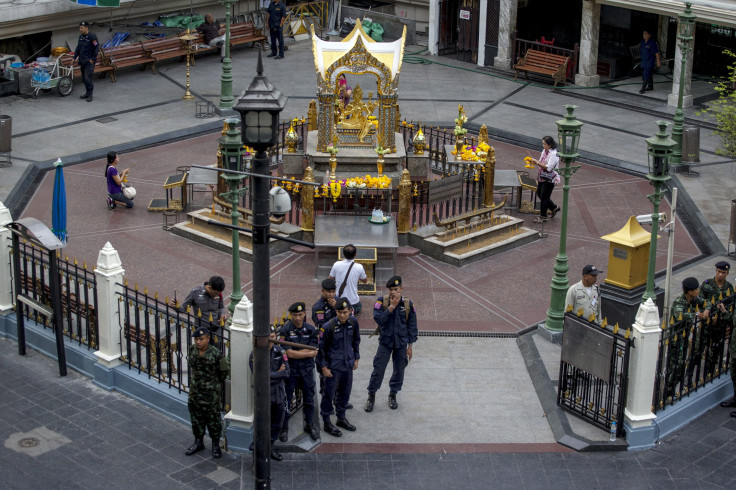 Update as of 7:15 a.m. EDT: Thai officials said the key suspect in the deadly bomb attack in downtown Bangkok last month has fled to Turkey, the Associated Press reported Monday.
Original story:
Malaysia arrested three suspects who have been linked to a bomb blast in Bangkok last month that killed 20 people, police officials said Monday.
Police chief Khalid Abu Bakar said that two Malaysians and a Pakistani were arrested and were being questioned. Thai police have so far identified 10 suspects and arrested two in connection to the deadly blast at the Erawan Shrine, and one suspect has admitted to possession of explosives.
"We believe the suspects can help in the investigation... our arrest was made to assist the Thai police in the Thai bombing investigation," he said, according to Reuters. "Malaysian and Thai police are working closely in cooperation."
Police officials are also investigating links to Turkey and China's ethnic Uighur minority. Previous reports suggested that the attack may have been carried out by a group in retaliation against Thailand's forced deportation of Uighurs -- an ethnic Turkic-speaking Muslim group from China's Xinjiang province -- in July.
Thai police have been criticized over their handling of the investigation, and over official statements regarding perpetrators and information gleaned from suspects, which critics say have often been contradictory or cryptic.
The arrested Pakistani national is a man while a woman was among the Malaysian nationals arrested, according to Khalid, who added that authorities did not yet plan to move the suspects to Thailand,
Malaysian police were still looking for the main suspect, an unidentified man in a yellow T-shirt, who was seen in surveillance footage with a backpack suspected to have contained a bomb, and leaving the scene without the bag.
Khalid said that they were unsure if he was in Malaysia, after investigators said that evidence indicated he may have fled through Thailand's southern border into Malaysia earlier this month.
© Copyright IBTimes 2023. All rights reserved.