As Malaysia's PM Struggles In Graft Scandal, His Party Plays The Race Card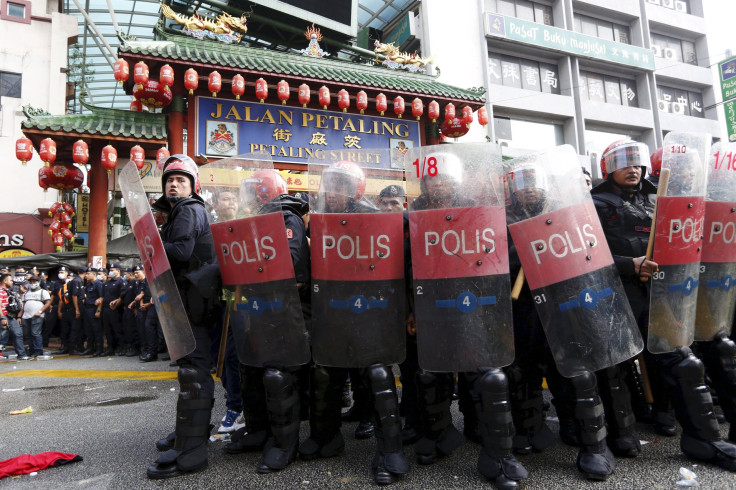 KUALA LUMPUR (Reuters) - When thousands of Malay Muslims marched through Kuala Lumpur last week to support his scandal-wracked government, Malaysian Prime Minister Najib Razak kept his distance.
He neither attended nor officially endorsed the racially charged rally by members of Malaysia's majority community.
But several members of Najib's political party told Reuters they helped an ultranationalist Malay group stage the "Malay Pride" rally. Critics accused the organizers of stoking racial tensions in multicultural Malaysia to distract from a multi-million-dollar corruption scandal swirling around the prime minister.
Protesters at the rally held signs reading "Don't insult Malays and Islam" and "#najibstays." Some were eventually dispersed by riot police outside Chinatown, where many Chinese businesses are located.
There, witnesses said, they hurled racial abuse against ethnic Chinese and threatened a repeat of 1969, when ethnic rioting killed hundreds of people, mostly Chinese. Communal tension has simmered in the succeeding decades, and some fear that racially volatile mass gatherings like the Sept. 16 rally could spiral into violence.
"It's not a threat," Ali Rustam, the head of the Malay group, said of the rally in an interview. "It's a reminder: Don't play with fire. Don't insult the Malays too much."
Malays make up about 60 percent of Malaysia's 30 million people and Chinese about 25 percent. There is also a sizeable Indian minority.
Many opposition supporters are ethnic Chinese, who dominated an anti-government protest last month that demanded Najib's resignation.
"Support Your Boss"
In a rural region of Selangor state last week, an official from the ruling United Malays National Organisation (UMNO) told Reuters that his party division hired 25 buses to ferry about 1,000 supporters to the pro-Najib rally in Kuala Lumpur. Five UMNO members said they were paid by party officials to attend.
"You have to support your prime minister, your boss," said Ahmed Samsuri, an UMNO division secretary in Selangor. Participants were fed and given a red T-shirt to wear, but weren't paid, he said.
But five protesters, all UMNO members in their teens or twenties, told Reuters that party officials had given them up to 50 ringgit ($12) when they boarded the buses. These small sums represent at least half a day's wages in rural areas.
"We didn't go because of the money. We went to unite the Malays," said Shahrizan Ahmad, 18, a fisherman.
The prime minister's office did not respond to a request for comment. Two senior UMNO party officials also declined comment.
About 30,000 people attended the rally, which was held as Najib faces allegations of graft and mismanagement at indebted state fund 1Malaysia Development Bhd (1MDB).
According to reports in July, investigators found that nearly $700 million was put into a private bank account in Najib's name.
Authorities in several countries are now scrutinizing the fund. The New York Times has said a U.S. federal grand jury was examining allegations of corruption involving Najib and people close to him.
Najib has denied taking any money for personal gain.
Martial Arts Group
The Sept. 16 rally was officially organized by a Malay martial arts group called the National Silat Organisation, known by its Malay-language acronym Pesaka.
About half its members are also members of UMNO, said the group's chief Ali Rustam. He himself is a senior UMNO functionary.
Authorities allowed the rally to go ahead although the opposition protest march last month was deemed illegal.
Ultranationalist groups like Pesaka have become more visible since the long-ruling party's poor showing in a 2008 general election.
"To mobilize people they have to play on the same kind of rhetoric: that Malays are under threat and need defending," said Sophie Lemière, an expert in Malay militancy at the European University Institute in Italy.
"Najib is in a very vulnerable moment. He needs these groups to create the impression that he's strong."
Business has returned to normal in Chinatown, but some traders there told Reuters they were still rattled by last week's rally.
One said rumors of attacks against the community still circulated on social media.
The bulk of the protesters were mobilized by Pesaka, which says it is a civic organization and claims hundreds of thousands of members nationwide.
While the prime minister didn't attend the rally, he was guest of honor two days later at a mass gathering of Pesaka members in Kuala Lumpur's Merdeka Square.
There, in traditional Malay dress, the British-educated Najib watched a martial arts display in which fighters appeared to dip their hands in boiling oil.
Afterwards, in a fiery speech, Najib praised Pesaka members as "willing to die" for the government.
"Malay people can also show that we are still able to rise when our dignity is challenged, when our leaders are insulted, criticized, shamed," he said.
He added: "We respect other races. But don't forget: Malays also have their feelings. Malays also have their limits."
© Copyright IBTimes 2023. All rights reserved.