Man Live Streams Apparent Suicide By Snake, 'Allows' Black Mamba To Bite Him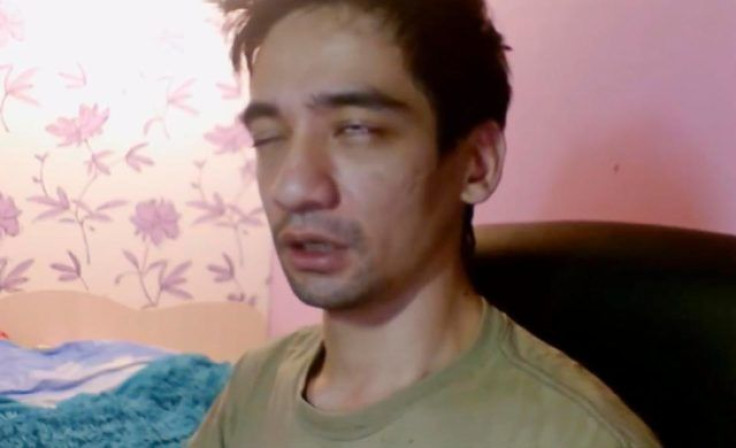 A heartbroken man live streamed his own death after he supposedly allowed his deadly pet snake to bite him, various news organizations reported Tuesday. He pleaded for viewers to call his estranged wife while he died in front of the camera.
Arslan Valeev, a popular snake expert in Russia, did not film the black mama biting him, but he did show the mark the reptile left on his hand. While it was widely reported Valeev committed suicide, some reports claimed the bite was an accident.
Valeev, 31, only had minutes to live after he allowed the black mamba to bite him. The clip showed his eyes rolling into the back of his head as his condition deteriorated.
At the end of the video, he staggered off the camera and into the street. He died before help reached him.
Valeev and his wife, Ekaterina "Katya" Pyatyzhkina, had a YouTube channel that amassed hundreds of thousands of followers. Their videos centered around snakes and cats.
The reason for the split wasn't known. Some claimed Valeev accused Pyatyzhkina of cheating on him, according to The Mirror. The other account was that Valeev beat his wife, leaving her with a concussion.
Less than a week later, he apparently committed suicide. "Hi. So, guys. It's time to do what I must do," he reportedly said in the clip.
Even though the bite wasn't filmd, he was supposedly heard saying "ouch" off-screen. "If I die, then I die," he said. "I just will stay with you for some time. Just in case - on my mobile there is a message for Katya."
He lifted his fingers to the camera to show the blood. "Pass on to Katya that I loved her very much," he said. "Beautiful, isn't it? Oh, damn, how it. Bye to everyone. I can't believe it is happening to me."
Valeev's dying wish was to see his estranged wife one last time. He gave out her number to viewers.
"This is Katya's number, if someone manages to call her, if she has time to come to me and see me, I would be happy," he said. "In fact I'm already dying. Farewell. I would be glad to see Katya. Damn, I'm shaking."
At least one person called for help, but it was too late.
Pyatyzhkina did not immediately issue a statement about her ex's death.
Whatever happened between the two, Valeev publicly apologized to Pyatyzhkina — but the damage was already done. She had filed for divorce and was dating someone new.
"I see that everything has passed for you, a new life began with someone you have long been close to," Valeev said in his apology Sept. 21. "There were no betrayals, we had no sex since July, we parted even earlier. They started to date at the end of July and I believe Katya about this."
He added: "I cannot describe the shock that I experience every day when I wake up in this new world without someone I have lost and deserved to lose, who I was with a couple of seconds ago in a dream."
Follow me on Twitter @mariamzzarella
© Copyright IBTimes 2023. All rights reserved.