Watch: Goat Pulled Out Of Python's Mouth, Robbing Snake Of Its Food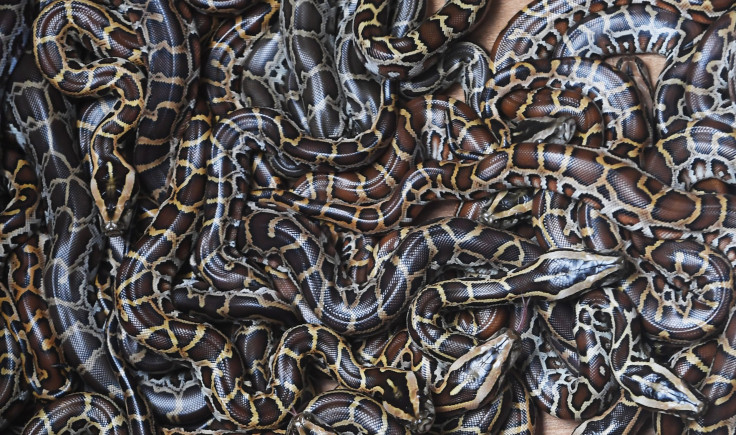 It was quite a sight around two weeks ago for locals of a village named Jaitpur in the central state of Madhya Pradesh in India when forest officials pulled a goat out of the mouth of a 15-feet python. A video shows the python, who had ventured into the village from a nearby forest before attacking its prey, being deprived of its food.
A team of forest officials along with a snake rescue expert reached the spot where the python had swallowed the goat and tried to save the little creature. The giant snake was relatively slow in its movement after swallowing its meal, but it took hours for the forest workers to catch hold of the snake as it had hidden inside a pit among the wild bushes, a report said.
"It was a 15-ft-long python. To take the reptile out from the pit among the bushes was a tough job but we managed it well with the help of villagers," said Akhil Baba, the snake rescue expert.
Read: Watch How A Python Fights With A Leopard And Its Cub
"We tried to save the goat but when we pulled it out, it was already dead," Daily Mail reported citing Rawat Tiwari, a forest official. The python was later released into the forest.
It was not clear what made the officials snatch away the snake's food, who was dead anyway, fulfilling its role in the natural food chain, according to Scroll.in.
This was quite similar, but with one main distinction, to the case of Akbar Salubiro in Indonesia when he was swallowed in March by a snake, measuring at more than 20-feet long. The 25-year-old man had gone to the island of Sulawesi to work on his palm oil crops but never returned home. A search operation started as soon as he had been missing for 24 hours, a police official said.
While searching, police spotted a dead python near Salubiro's house and also noticed his boot imprinted inside the snake's stomach, reports said. There was speculation the snake choked the man to death, and in the process of swallowing him, it choked as well.
Read: Burmese Python Outbreak In Florida
In June 2016, a farmer in China was petrified when he discovered his goat in the process of being swallowed by a python. He said he pulled his goat out of the snake after it became full which made it unable to move anymore, a report said.
Snakes devour large animals by suffocating them and then squeezing them into strips that are easy to swallow, animal experts have said.
But there have also been instances where a python was the one trapped in places from where it was pulled out, and in one bizarre case, that place was a plug socket.
In February 2016, a homeowner in Australia was shocked when he found a snake behind a plug socket after it caused smoke to waft out from the wall. He instantly called a snake catcher who struggled to remove the scared creature.
He said: "It took me around an hour to remove the snake...Understandably it was really scared and had curled up quite tight," Express reported.
© Copyright IBTimes 2023. All rights reserved.