Manny Pacquiao Buys His Son Jimuel Luxury Sports Car
Filipino boxing legend Manny Pacquiao just bought his eldest son Jimuel a luxury sports car as his first car.
Pacquiao indeed has enjoyed the fruits of his labor as a long-time boxing champ. Like some of the most famous athletes in the world, some of the money Pacquiao earned were invested on sports cars. Reports claim that the eight-division title holder owned several luxury rides in the past. A Ferrari 458 Italia and a Mercedes-Benz SL550 were just two of them.
Apparently, Pacquiao's 18-year-old son Jimuel is also crazy about sports cars. Jimuel was recently featured on the Team Sisson YouTube channel together with his first brand-new ride: a Chevrolet Corvette Stingray with a Torch Red exterior finish.
The fancy sports car was bought by none other than his father for reportedly P8,546,888 ($163,394.16), Top Gear Philippines reported.
Jimuel appeared to be a big fan of the vehicle's 6.2-liter V8 engine . In a video, Jimuel plays around with the throttle and gives it a few revs before proceeding to take it for a quick spin around the neighborhood .
Aside from being passionate about fancy cars, the father and son also have the same passion in boxing. Jimuel vows to follow the footsteps of his legendary father but he suffered his first devastating loss in amateur boxing earlier this month.
The fight ended in a split decision declaring Ken Danila of Imus, Cavite as winner. It was reportedly a three-round 140-lb friendly boxing match in Novaliches, Quezon City.
In a phone interview, Jimuel claimed that his opponent was much experienced than him in boxing.
But despite being handed his first loss, Jimuel is still determined to pursue his boxing career.
"Tuloy pa rin po ako sa boxing (I will continue boxing)," Jimuel said.
Meanwhile, his father Manny is rumored to be in talks for a fight with Mikey Garcia. According to Peter Garcia of Team (Mikey) Garcia, the Pacquiao vs. Garcia is already being negotiated and a date will be announced soon.
"My grandpa said, 'He's going to get a date soon. He doesn't come on Tuesdays when he doesn't have a fight coming up.' It's still in negotiations," Peter Garcia said about the potential Pacquiao vs. Garcia fight.
Pacquiao's trainer Freddie Roach also likes the idea of Pacquiao-Garcia fight. However, the veteran trainer is also open for other options.
In a recent media scrum, Roach revealed the ideal fight for Pacquiao. According to Roach, Pacquiao could fight the winner of Terrence Crawford and Errol Spence if the two would ever face each other.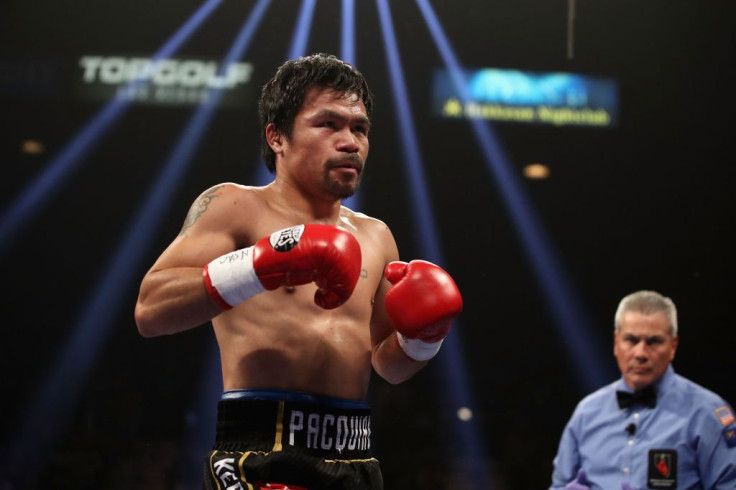 © Copyright IBTimes 2023. All rights reserved.