Manny Pacquiao's Sons, Erik Morales Have Same Pacquiao vs. Thurman Prediction
Former boxing world champion Erik Morales and sons of legendary fighter Manny Pacquiao share the same outcome on Pacquiao-Thurman showdown.
Pacquio vs. Thurman is just moments away and in the past few days, an array of predictions were thrown by multiple boxing personalities. Even Pacquiao's sons shared their predictions during brief media encounters in Las Vegas and although they are not professional boxers, they had the same prediction as Morales, their father's former rival.
About a week ago, Morales already predicted that his fellow champ and friend Pacquiao will win against Thurman via knockout and it will most likely occur in Round 10 or even later.
And just recently, Morales, along with Marco Antonio Barrera and other boxing champs made an appearance in a press conference to once again claim that Pacquiao will be able to dominate Thurman because of experience and eventually score a knockout in the later rounds.
While Morales seems consistent with his prediction, it appears that he is not the only one seeing a KO Victor for Pacquiao. Michael and Jimuel Pacquiao,sons of the eight-division title holder, also foresee a "late" knockout victory.
In a recent interview with Philstar Global, Jimuel said that his father will win the fight via "Late stoppage." Jimuel is not only a fan of his dad but also happened to be an amateur boxer in the Philippines. He has been fighting do quite sometime and has an undefeated record in amateur boxing.
Pacquiao's other son Michael had a quick talk with Elie Seckbach of EsNews while roaming around Las Vegas and in the brief media scrum, Seckbach was able to press the young Pacquiao to make a prediction.
According to Michael, his father will knockout Thurman somewhere in later rounds.
"It's gonna be a knockout, somewhere in late rounds, not sure," Michael said.
Michael was not only hopeful that his father will be able to KO Thurman but he also hopes that the knockout win should be enough to shut the younger fighter up.
"I hope so! To keep Thurman quiet, cause he keeps on talking," Micahel added.
Pacquiao has not scored a knockout win at 147 lb division. That fact has made his trusted coach and trainer Freddie Roach assuming that the Filipino legend is hungry for a knockout. Even Roach himself is looking forward to statement win against Thurman and is very confident that his fighter will live up the hype.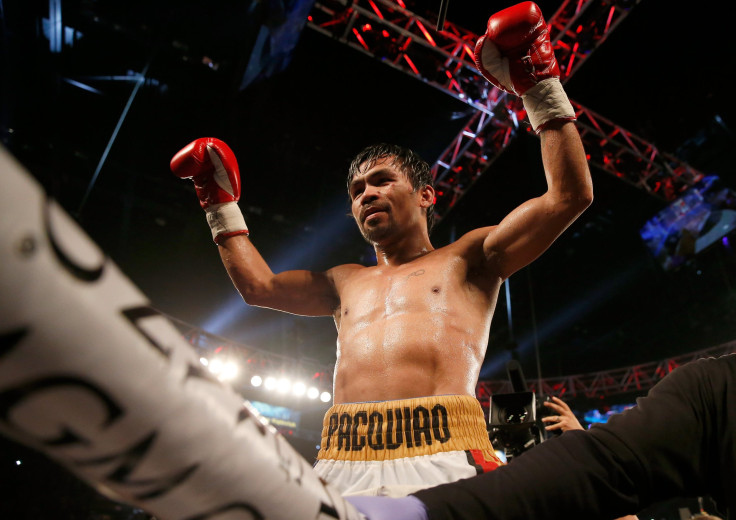 © Copyright IBTimes 2023. All rights reserved.