Markets Latest: China's Markets Continue To Fall, Other Asian Markets Up Slightly On Tuesday Morning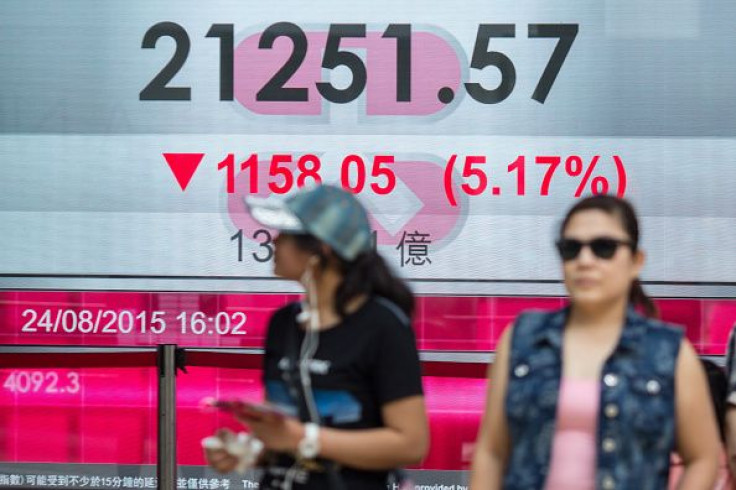 The rout on China's stock markets continued in early trading in Asia on Tuesday morning. Shanghai's main composite index opened down 6.4 percent, getting perilously close to the psychologically important 3000 mark (it was trading at 4000 little more than a week ago) before rebounding, then falling back again. It finished the morning session down 4.3 percent at 3071; the secondary index in Shenzhen opened down 6.9 percent, before also reversing its fall slightly to end the morning around 4 percent lower -- as did Shenzhen's Nasdaq-like ChiNext index.
The Chinese government was reported to have pumped more liquidity into the market on Tuesday morning -- Shanghai Securities News said it would inject as much as 150 billion yuan (around $23 billion). However, analysts said this short-term injection of funds was not particularly reassuring to investors, who had been hoping for further long-term policy easing -- such as a cut in reserve requirement ratios to encourage bank lending -- as a signal that the government remained committed to propping up the markets.
Hong Kong's Hang Seng index, which had fallen more than 5 percent on Monday, also opened slightly down, then rebounded. At lunchtime it was up 1.6 percent, at 21,595.
Elsewhere in Asia, Japan's Nikkei also opened lower, before climbing again, and was up more than 1 percent in morning trading. Australian shares were also up, by more than 2 percent, with Singapore also higher by mid-morning, up 1.4%.
Yet the question of whether the Chinese government, which has set great store on using the stock market to raise funds for the country's industrial restructuring, would take further action to prop up the market -- as it did in July with a series of measures including massive spending by government-backed investment funds -- remained a focus of attention.
Shanghai-based news website the Paper quoted the local Securities News as saying it was a mistake to think that the government would stop propping up the market. It said that while the authorities ultimately wanted market rules to be the deciding factor, the government also had an "unshirkable duty to take stabilizing measures" at a time of crisis. And it criticized some investment funds for "abandoning reason," and allowing shares to fall so fast. It said such actions could destroy investor confidence, which could threaten China's wider economy.
However, the Global Times newspaper, published by government mouthpiece the People's Daily, said in a commentary on Tuesday that China's economy, while experiencing "a bitter period of structural adjustments, " was still "one of the best" in the world, and this would not change. It criticized the "herd mentality" of investors, which it said had led to "unusual short term jitters."
© Copyright IBTimes 2023. All rights reserved.