Mayweather Vs. Maidana 2: Tickets, Tale Of The Tape, Updated Vegas Odds For Floyd's Next Fight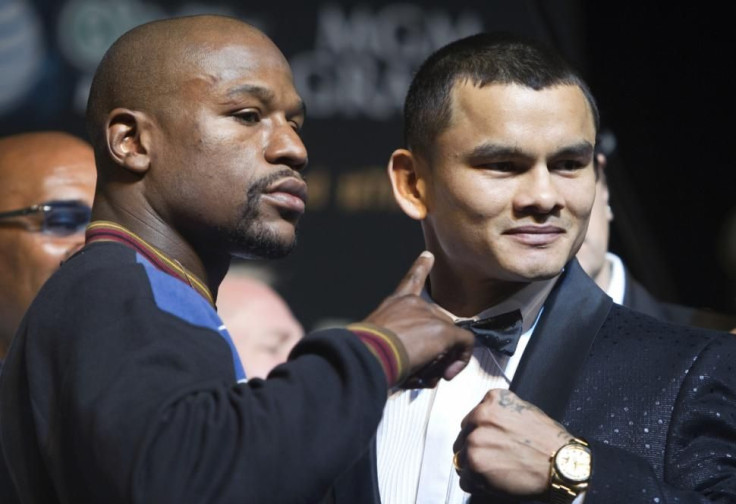 It's not often that Floyd Mayweather is presented with a legitimate challenge, but that could be the case on Saturday night at the MGM Grand Garden Arena. The best boxer in the world is set to take on Marcos Maidana for the second time in four months after he won one of the toughest fights of his career.
Mayweather-Maidana II is just the second rematch of Mayweather's career, but it seemed warranted considering the back-and-forth bout the two fighters had on May 3. Maidana was thought to be the ultimate longshot, but he battled Mayweather and avoided losing a unanimous decision.
In the rematch, Mayweather will once again put his welterweight titles on the line. While the first fight was not highly anticipated by many who thought it would an easy victory for Mayweather, the ticket sales and betting odds indicate that Saturday's fight could draw increased interest.
Tickets
After the two boxers battled for 12 entertaining rounds in May, the September bout between the two is expected to sellout. Tickets are still available at ticketmaster.com, but the cheapest seat can only be had for $374.15. If the fight sells out like it did the first time, the MGM Grand stands to make approximately $15 million on tickets sales, according to the Las Vegas Sun.
The tickets are going for a lot of money on the secondary ticket market, with the cheapest seat at StubHub being sold for $425.20 just two days before the fight. Ringside seats, which can only be purchased on the secondary market, can be bought for no less than $4,487.60 on StubHub.
Betting Odds
Since the fight was first announced, Maidana's odds of winning have improved. While some online sports books have Mayweather listed as a -800 favorite, the MGM Grand's sports book has the champ's odds at just -650. Maidana comes in at +500.
Even though Mayweather won a majority decision four months ago, Maidana's performance has forced the oddsmakers to give him a better shot of winning in the rematch. The undefeated boxer was a -1000 favorite before the start of his first bout with Maidana.
The most likely decision has Mayweather winning in a decision. Bovada.lv lists those odds at -265. If Maidana can overcome the odds and be the first boxer to beat Mayweather, the oddsmakers expect him to do so with a knockout. The most unlikely decision is a draw at +2200, though one of the three judges from the first fight did score the match a draw.
Tale of the Tape
Floyd Mayweather Marcos Maidana
Age: 37 31
Height: 5'8" 5'7"
Reach: 72" 69"
Stance: Orthodox Orthodox
Record: 46-0-0, 26 KO's 35-4-1, 31 KO's
© Copyright IBTimes 2023. All rights reserved.