McDonald's Corporation (MCD) Q1 2015: Global Sales Drop 2.3%, Profit Misses Estimate But Company Meets Revenue Forecast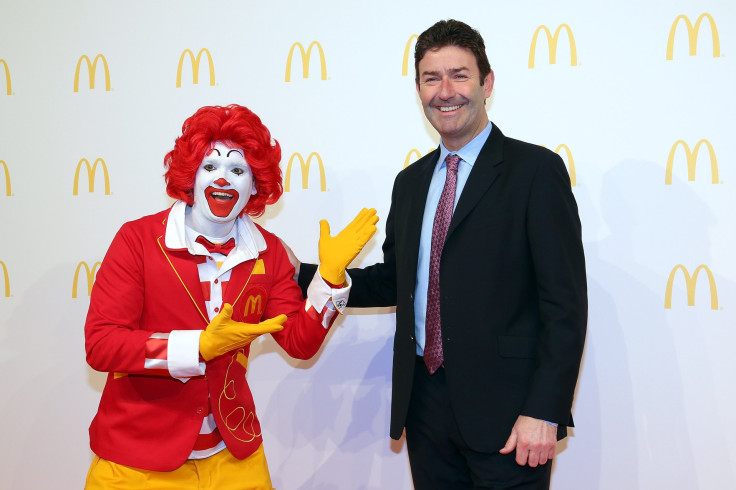 McDonald's Corporation (NYSE:MCD) on Wednesday said it missed Wall Street's earnings estimate on global sales declines in first quarter. The world's largest restaurant chain did meet revenue expectations, however, which helped boost its share price.
In its first quarterly report under new CEO and President Steve Easterbrook, McDonald's reported a 2.3 percent drop in store sales worldwide. Net income fell 32.6 percent to $811.5 million, or 84 cents per share, in the quarter ended March 31. The company made $1.20 billion, or $1.21 per share, in the same period last year.
Excluding one-time charges, net profit was expected to shrink by 15.6 percent, from $1.21 billion to $1.02 billion. Earnings per share before charges was expected to fall from $1.21 to $1.06.

"McDonald's management team is keenly focused on acting more quickly to better address today's consumer needs, expectations and the competitive marketplace," the company's new CEO and President Steve Easterbrook said in a statement announcing the results. "We are developing a turnaround plan to improve our performance and deliver enduring profitable growth." On March 1, Easterbook replaced retiring McDonald's boss Don Thompson and is tasked with solving sales U.S. declines that have been chipping away at the Golden Arches. McDonald's is confronting shifting consumer tastes in quick-service dining.

​McDonald's share price jumped 2.38 percent percent to $94.87 in pre-market trading on Wednesday as investors looked past the profit miss and sales decline and focused on the company's revenue number.
Analysts polled by Thomson Reuters had expected McDonald's to report an 11 percent drop in revenue from the same quarter last year, from $6.7 billion to $5.96 billion. The company met this estimate.
Last year, McDonald's net profit dropped 15 percent to $4.76 billion on 2 percent less revenue, to $27.44 billion.
"We see slow economic growth in Europe and Asia, and near-term regional challenges. Also, McD [McDonald's] is becoming less appealing to the millennial generation," Standard & Poor's equity analyst Efraim Levy said in a research note last week. "On the positive side, McD has long-term growth potential in China and other emerging markets, we think, where it has far fewer restaurants per capita than in the U.S."
© Copyright IBTimes 2023. All rights reserved.