Memphis Grizzlies News, Playoff Schedule: Cool-Headed Mike Conley Set To Lead Team Against San Antonio Spurs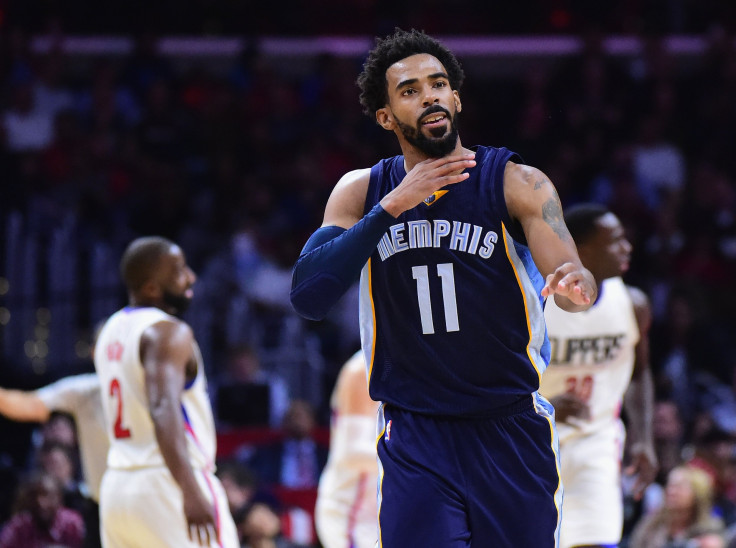 The NBA Playoffs are set to tip-off Saturday afternoon with heighten talk about the value of the league's top players. While LeBron James remains the face of professional basketball and is coming off another exceptional season, players like Russell Westbrook and James Harden have received considerable attention for the MVP award because of their stellar statistics.
One player who won't be in the MVP chatter is Mike Conley Jr., though he probably deserves more attention this year than any other. The Memphis Grizzlies point guard is having the best season of his 10-year career with highs in scoring (20.5 points per game) and field-goal percentage (45.9), while leading the Grizzlies to a No.7 seed in the Western Conference.
But scoring numbers rarely tell the whole story and that's especially the case with Conley. As Ben Cohen of the Wall Street Journal pointed out on Thursday, Conley has never received a technical foul—in his entire basketball career.
The lack of technical fouls might explain why the 29-year-old has won the NBA Sportsmanship Award twice (in 2014 and 2016) and why he has received widespread praise for his low-key and pleasant demeanor. Former Grizzlies head coach Dave Joerger once described Conley as the kind of man a father would want his daughter to marry.
Joerger made sure to not confuse Conley's gentlemanly manners for a lack of competitive drive. "He's not too nice," Joerger told the Associated Press. "He's a hard, competitive guy, but he does it in a very classy and professional way."
Such cool-headedness has served the Grizzlies well. Memphis finished last in field-goal percentage (43.5) yet still finished with the 11th-best record in the league. While the Grizzlies might be frustrated by their shots not falling, they have seen an uptick in wins from last season. Many have cited the durable Conley's increased role in the offense.
"I'm not a Ferrari. I don't move like that. Now, I'm something classy. I'm just a Mercedes. I won't break down on you," Conley said. "I don't shy away from adversity."
Conley, the son of triple jump Olympic gold medalist Michael Conley Sr., has been rewarded for his play and good nature. Over the summer, the Grizzlies gave the Indianapolis native a 5-year, $153 million dollar deal, which, in terms of total value, is the NBA's richest contract.
Just like a bad call doesn't spark a harsh reaction from Conley, getting a huge contract did little to alter his way of life. In an interview with the ESPN Radio Show "Mike and Mike," Conley was asked what he would do with the big influx of cash, to which he casually responded that he would just buy his wife "a car or something."
How Conley performs in the playoffs with the balanced Grizzlies lineup is a big question.
The Grizzlies are certainly the underdog in their best-of-seven series against the San Antonio Spurs starting Saturday night. The Spurs are 9-to-1 favorites to win the NBA Finals, while the Grizzlies have 250-to-1 odds. The two teams split their season series, though the Spurs won the last two times they met.
Conley stated that the Grizzlies are "excited for the challenge against the Spurs."
The Grizzlies are mostly healthy but they won't have the services of swingman Tony Allen, who is out indefinitely with a strained calf muscle. No Grizzlies player appeared in more than 77 games in 2016-17.
Grizzlies vs. Spurs Schedule
Game 1: Memphis at San Antonio - Saturday, 8:00 p.m. ET - ESPN
Game 2: Memphis at San Antonio - Monday, 9:30 p.m. ET - TNT
Game 3: San Antonio at Memphis - Thursday, 9:30 p.m. ET - TNT
Game 4: San Antonio at Memphis - Saturday, April 22 8:00 p.m. ET - ESPN
Game 5*: Memphis at San Antonio - Tuesday, April 25 - TBA
Game 6*: San Antonio at Memphis - Thursday, April 27 - TBA
Game 7*: Memphis at San Antonio - Saturday, April 29 - TBA
* If necessary
© Copyright IBTimes 2023. All rights reserved.