Merkel Tells Greece to Hasten Debt Deal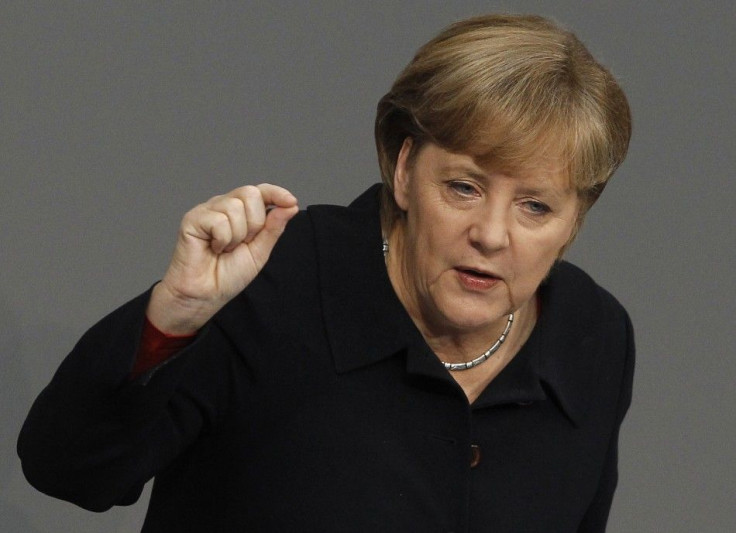 German Chancellor Angela Merkel warned Greece on Monday it would not be possible to give further aid without rapid progress on its second rescue package, including a voluntary write-down on Greek debt held by private creditors.
We must see progress on the voluntary restructuring of Greek debt, Merkel told a joint news conference with French President Nicolas Sarkozy in Berlin.
From our point of view, the second Greek aid package including this restructuring, must be in place quickly. Otherwise it won't be possible to pay out the next tranche for Greece.
Merkel said she would talk about Greece with International Monetary Fund chief Christine Lagarde in Berlin on Tuesday.
Banks, insurers and investment funds have been negotiating with the Greek government for weeks on a bond swap scheme which aims to cut its debt-to-GDP ratio to 120 percent from roughly 160 percent currently.
Under the plan, private creditors are being asked to voluntary accept a nominal 50 percent cut in the value of their Greek bond holdings in return for a mix of cash and new bonds, although there are suggestions that may not now be enough.
The private sector involvement is a key part of a new 130 billion euro bailout package that needs to be in place by March to ensure Greece does not default on its massive debt.
But talks are not progressing as fast as hoped. Complicating matters, European Central Bank policymaker Athanasios Orphanides called last week for the private sector deal to be scrapped and an adviser to the German finance ministry said plans for a 50 percent writedown were insufficient.
TOBIN TAX
The German and French leaders said they were making progress on a fiscal compact for closer convergence on economic policy in Europe to avoid future debt crises.
Berlin and Paris are looking at how to speed up payments into the euro zone's permanent euro zone bailout scheme (European Stability Mechanism), which has been brought forward a year to mid-2012, Merkel added.
Sarkozy, who is trailing in opinion polls ahead of a two-round presidential election in April and May, is pushing aggressively for a new levy on financial transactions, or Tobin tax.
Britain says it will veto such a tax at EU level unless it is adopted on a global scale, fearful of the impact in the City of London financial centre. The issue could split the European Union at a summit planned for January 30.
Sarkozy vowed last week that France would push ahead with the tax unilaterally if other Europeans dither, and told reporters in Berlin: If we don't set the example, it will not be done.
We have no doubt we are going to start a trend in the euro zone for everyone to adopt this tax, which is exactly what is needed, he said.
French daily Le Monde said Sarkozy's government might limit its ambitions for the tax to a levy on share purchases, and leave taxes on derivatives and/or bonds until a later stage.
Merkel took a characteristically more cautious approach, saying she had long favored such a tax which would ideally be adopted by all 27 European Union members. But she acknowledged differences within her government on the issue and said finance ministers should deliver a report on it by March at the latest.
GROWTH AND JOBS PRIORITY
Merkel and Sarkozy discussed how to boost growth and jobs against an unfavorable backdrop of harsh austerity and mounting funding tensions in the banking sector.
Germany's economy keeps showing it can withstand the crisis, with a rise in exports reported on Monday and the labor market thriving.
But employment is a pressing issue for Sarkozy ahead of the presidential vote. French jobless claims are at their highest level in 12 years and the country on course for a record trade deficit in 2011.
Prime Minister Francois Fillon said on Monday France's fiscal gap would probably be narrower than forecast this year but he did not rule out new deficit-cutting measures.
The chancellor and myself are fully aware that the priority at the moment is growth, employment and the competitiveness of our continent, said Sarkozy, citing the need to use European funding for growth measures, but without naming specific plans.
There was little news from the brief Franco-German summit to boost the euro, which had crawled back from a fresh 16-month low against the dollar ahead of the talks but with markets expecting further declines on persisting euro debt concerns.
Market unease was reflected on Monday in the first ever negative auction yield on six-month German government debt, with investors paying 0.0122 percent for the privilege of parking funds with Berlin until July.
After Merkel's talks with IMF chief Lagarde on Tuesday she receives Italian Prime Minister Mario Monti on Wednesday. The Italian, French and German leaders meet again in Italy on January 20, before a January 23 EU finance ministers meeting and the January 30 EU summit.
(Additional reporting by Emmanuel Jarry, Noah Barkin, Annika Breidthardt and Sarah Marsh in Berlin and Catherine Bremer and Vicky Buffery in Paris; Writing by Stephen Brown; Editing by Noah Barkin/Mike Peacock)
© Copyright Thomson Reuters 2023. All rights reserved.