'Messi' The Border Collie Crowned Top Dog Actor At Cannes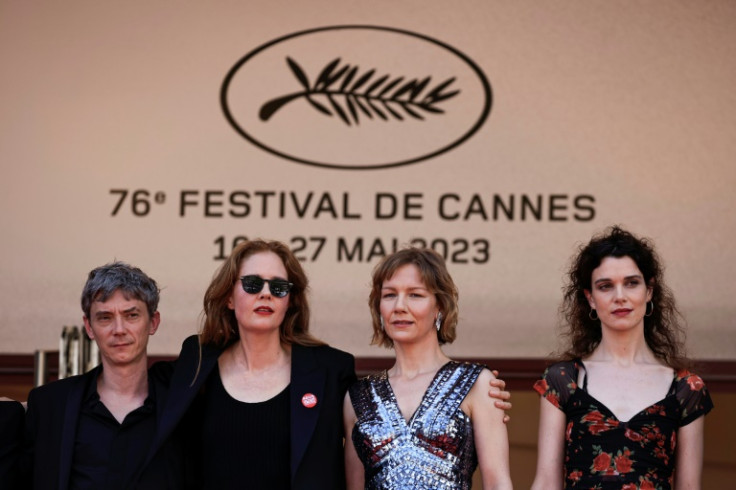 Following the glorious path of his footballer namesake, a border collie named "Messi" was awarded the Palm Dog for his crucial role in solving a crime in Cannes favourite "Anatomy of a Fall."
Hailed as the "pawmost" award in doggy cinema, the Palm Dog has become the hottest ticket of the French Riviera film festival, drawing influencers, dog lovers, and journalists happy to get their microphones drooled on.
This year it was standing room only in the crammed seaside awards venue, as long-time host and founder Toby Rose drew groans for his traditional barrage of pooch puns, and scolded furry attendees for yapping and barking throughout the presentation.
The border collie "Messi" was hailed by the jury for "one of the best performances we have ever seen" in the film by French director Justine Triet.
In the role of "Snoop," he "plays an essential role in the plot and particularly impressed the jury with a dramatic scene where he convincingly simulated an illness."
The Guardian critic Peter Bradshaw -- a member of the jury -- quipped that "the Palm Dog is much more important than the Ballon d'Or" -- won multiple times by Argentine footballer Lionel Messi, who recently led his team to World Cup victory.
An honorary grand Palm Dog prize was awarded to British film director Ken Loach -- whose latest film "The Old Oak" premieres Friday -- for a lifetime of giving key roles to dogs in cinema.
His new movie "features what I can only describe as a Socialist dog, a dog of the left," joked Bradshaw, a reference to Loach's famously politically engaged movies.
The leading actors from "Fallen Leaves", a bittersweet romance by director Aki Kaurismaki, 66, appeared at the event to bark in Finnish, as they received the award for the Grand Jury Prize, awarded to the dog "Chaplin."
As always, what Rose dubbed "a look-alikey-ish" dog, is brought on stage to pose for photos.
"This year's dogs hit multiple notes in a huge variety of genres ... from horror to romcom to thriller, and set in places as different as Sudan, South America and the deepest bucolic French countryside," said Rose.
The world's leading film festival wraps up Saturday with the awarding of the top prize Palme d'Or, with 21 movies in the running this year.
© Copyright AFP 2023. All rights reserved.