MH370 Compensation: Only Interim Payment Offered To Families Of Malaysia Airlines Crash Victims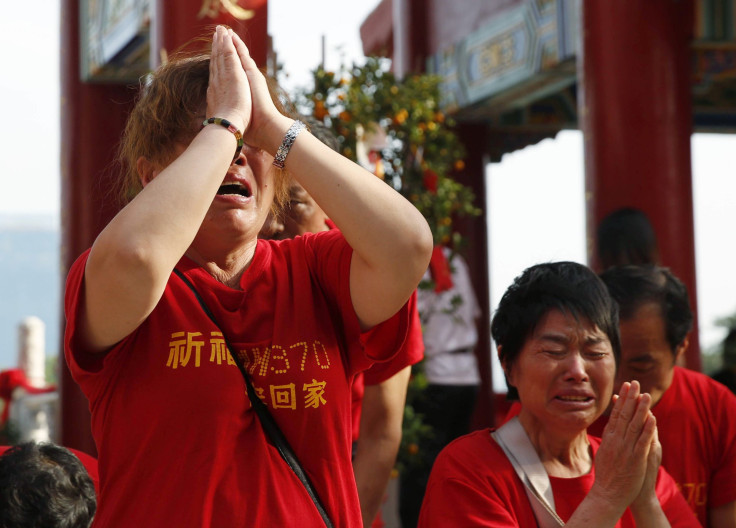 Relatives of the victims of the Malaysia Airlines Flight MH370 plane crash last year have not received any offers for compensation aside from an interim payment less than the full amount suggested by a multilateral treaty governing procedures for air disasters, according to Malaysian news site Astro Awani. Despite the Malaysian government declaring the incident an accident and allowing the airline to reimburse the families, "Neither Malaysia Airlines nor its insurer has offered settlements to the families other than a $50,000 advance per family," said Voice370, a nonprofit organization claiming to represent these families.
The group also said Thursday that the families were asked to provide proof of their losses. Under the Montreal Convention, families of the victims were entitled to around $176,000 for each relative who perished on board, according to CNBC. "They have told us that we will need to prove our losses in accordance with whatever the law in our home countries requires Malaysia Airlines to pay," Voice370 said in a statement. "This is a stark contrast to how we understand other families have been treated in recent accidents."
The organization referred to the crash of TransAsia Flight GE222 in July last year where relatives of the victims were offered $473,000 for each person killed in the accident in Taiwan and did not have to go through "the painful steps of proving their emotional and financial losses." "We ask Malaysia Airlines and its insurer to treat us fairly, to not require us to initiate the painful process of obtaining death certificates in order to discuss compensation," Voice370 added.
Only seven families had accepted Malaysia Airline's payment of $50,000 in January, said Malaysia Airlines officials who wished to remain anonymous, according to Australian news service ABC News. They added that relatives who refused the offer saw the money as obliging them to accept that the plane had crashed at sea, and that they were holding out hope that the passengers might still be alive.
"We have been told that the Malaysian government's announcement that our loved ones were killed will serve to help us move forward with compensation and with our lives," Voice370 said in the statement. "This suggestion that we must accept the premise that our loved ones are dead is inconceivable to us and cruel."
The Malaysian government had given Malaysia Airlines approval to compensate families of the MH370 crash after declaring in January that the disappearance of the flight was an accident and all 239 passengers and crew on board were presumed dead. The official statement from the government was in accordance with international civil aviation procedures for families to obtain assistance through compensation, said Azharuddin Abdul Rahman, director-general of Malaysia's Department of Civil Aviation, according to Reuters. Malaysia Airlines said it would contact the family members and provide "fair and reasonable compensation" in accordance with applicable laws, according to Channel NewsAsia.
It has been nearly one year since Flight MH370 disappeared March 8, 2014, on its way from Kuala Lumpur to Beijing. Australia has been leading the search for the missing plane ever since, although nothing has turned up. Australian Prime Minister Tony Abbott suggested Thursday that the search is likely to be scaled back after nearly a year of no results.
© Copyright IBTimes 2023. All rights reserved.
FOLLOW MORE IBT NEWS ON THE BELOW CHANNELS