Michelle Obama Launches Website As Part Of 'Reach Higher' Initiative To Help Children Get Higher Education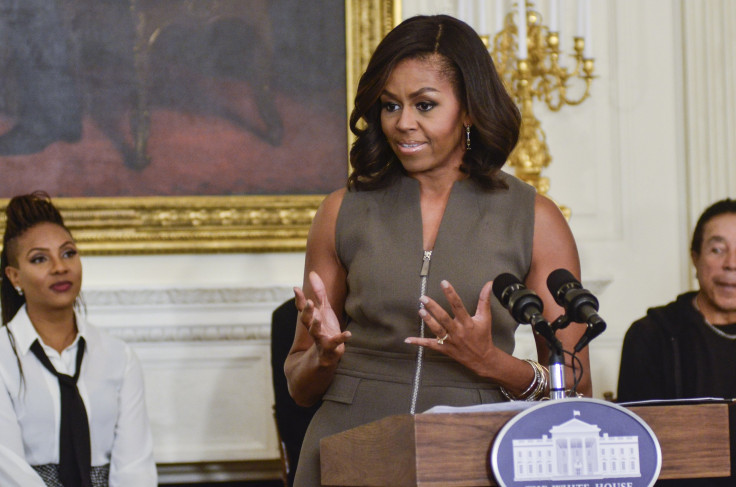 Michelle Obama announced Monday the launch of a new public awareness campaign under her Reach Higher initiative, which would motivate children to opt for studies after high school. The campaign called Better Make Room (BetterMakeRoom.org) will allow students to get information on forms required for higher studies, including federal aid forms and college applications.
The campaign will be supported by over 20 media, business and nonprofit groups, and the website would be useful for children between the ages of 14 and 19 to help them sign up for SAT and ACT exams. BetterMakeRoom.org will also allow students to share their goals, progress and their inspiration to enroll for higher studies, the Associated Press reported.
The first lady made the announcement about the new phase of her Reach Higher initiative on Monday during an event at the White House. Among the groups helping the campaign are Vine, Mashable, American Eagle Outfitters, Funny Or Die, the CW television network, AwesomenessTV and CollegeHumor.
The Reach Higher initiative was launched in May 2014 and aims to "encourage every student in America to take charge of their future by completing their education past high school, whether at a professional training program, a community college, or a four-year college or university," according to the White House. The initiative is a means to achieve President Barack Obama's "North Star" goal, through which he hopes that the U.S. would have the highest proportion of college graduates in the world by 2020.
"I believe that education is the single-most important civil rights issue that we face today. Because in the end, if we really want to solve issues like mass incarceration, poverty, racial profiling, voting rights, and the kinds of challenges that shocked so many of us over the past year, then we simply cannot afford to lose out on the potential of even one young person," Michelle said in February, according to Reach Higher's website.
© Copyright IBTimes 2023. All rights reserved.