Microsoft Executive Teases New Surface Pro Before Tuesday Announcement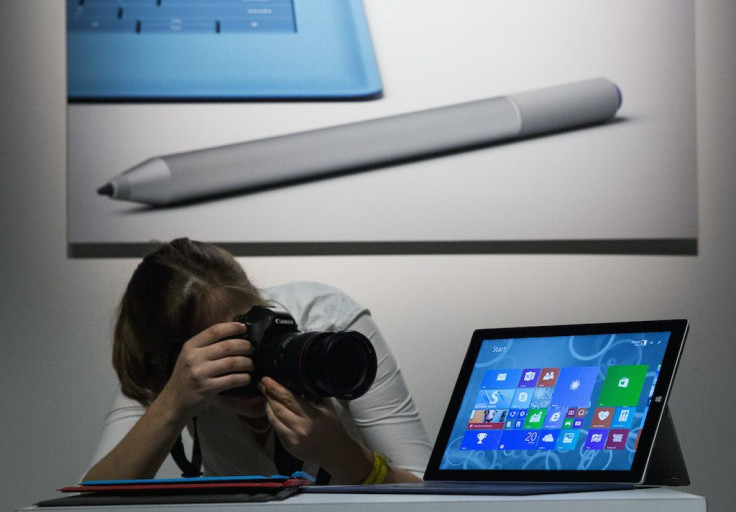 The new Surface Pro could be announced Tuesday at Microsoft's press event Shanghai, a tweet by Panos Panay, the company's vice president of devices, suggests.
The tweet, posted late Sunday, shows four cover keyboards, including a red one and a blue one.
"Working session. 30 hours to go," said Panay, using hashtags, #MicrosoftEvent #Surface #Shanghai.
Read: iPad Pro 2 Launching At WWDC, Expected Features Include Bezel-less display, 10nm processor, Reports
Photos of the hybrid tablet-laptop were leaked by Evan Blass earlier this month. Blass said the update from the Surface Pro 4 will be called the Surface Pro, not Surface Pro 5. Panay had said earlier this month there's "no such thing as the Surface Pro 5."
Microsoft's new tablet, which was previously expected to be unveiled Tuesday, won't see major changes, with most upgrades expected to be internal. The device looks similar to the Surface Pro 4, and comes with the same 3.5mm headphone jack, Mini DisplayPort and a USB Type-A port, another report said. The Surface Pro won't have any USB-C ports, since Microsoft believes the feature is not yet ready for the mainstream. It was previously rumored Microsoft was looking into adding Intel's seventh-generation Kaby Lake processors for the new Surface Pro, so users should expect better performance from the device.
Read: Apple iPad Pro 2 10.5-Inch Launching At WWDC In June, Leaked Screenshot Hints
The Surface Pro is rumored to come with new accessories, including Microsoft's Surface Arc Mouse, which was unveiled alongside the Surface laptop. The Surface Pro will also come with a new Pen and Type Cover color versions that will resemble the Surface Laptop's color palette.
Microsoft released the Surface Pro 4 in October 2015. Panay previously said the company wants to deliver meaningful and "experiential change that makes a huge difference in the product line," and not just equip it with the latest processor.
The Surface Pro will compete with other tablets on the market, including Apple's iPad, Amazon's Fire devices and Samsung's new Galaxy Tab S3.
The Tab S3 features a 9.7-inch display, a Qualcomm Snapdragon 820 chip, 4GB of RAM and 32GB of internal storage with expansion of up to 256GB, a 13-megapixel autofocus camera and a 5-megapixel front camera.
Apple is expected to unveil the iPad Pro 2 at the Worldwide Developer Conference next month. The tablet is rumored to come with an edge-to-edge screen display measuring 10.5-inches. The iPad Pro will also come with a new accessory: a revamped Apple Pencil, which is said to be magnetic. The tablet is expected to have an electromagnetic strip, which will serve as a charging point and dock for the Apple Pencil 2. Additionally, the iPad Pro 2 is rumored to come with a 12-megapixel camera for 4K video recording and Live Photos.
Meanwhile, Amazon released its latest low-priced tablets last week: the Amazon Fire 7 Tablet, Amazon Fire HD 8, all-new Amazon Fire 7 Kids Tablet and the Fire HD 8 Kids Edition.
© Copyright IBTimes 2023. All rights reserved.