Microsoft's (MSFT) New CEO Satya Nadella Underscores Rise Of Indians In U.S. High Tech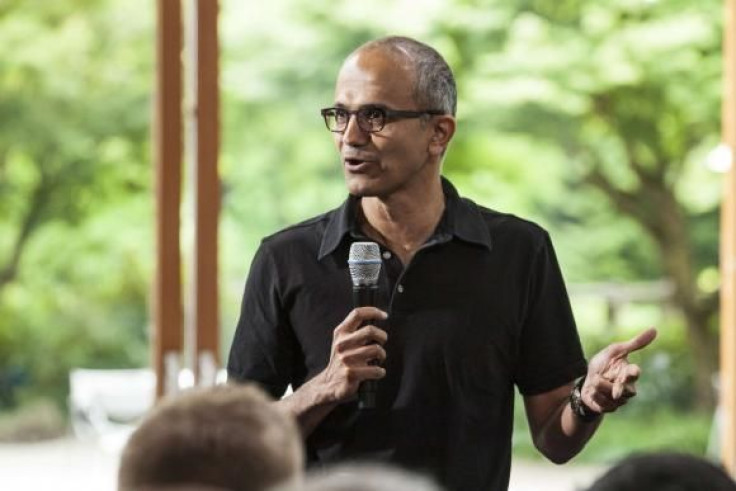 Satya Nadella's appointment Tuesday as Microsoft Corp.'s (NASDAQ:MSFT) chief executive officer underlines the extraordinary rise of Indians in the high-tech industry in the U.S.
Microsoft's board tapped Nadella, the former head of its fast-growing and highly profitable enterprise-computing unit, to succeed Steve Ballmer, who is retiring. Nadella, 47, is a 22-year Microsoft veteran.
The Seattle Times reported that in the last fiscal year, Nadella's division generated $8.2 billion in operating income and revenues of $20.3 billion. Prior to running the cloud-computing division, Nadella led research and development for the company's Online Services unit.
The Indian-born Nadella has no experience as a CEO of a large and multidimensional company like Microsoft, yet some analysts don't think that's a hindrance. "I don't see that as a negative," said Norman Young, a senior stock analyst at Morningstar investment research. "In many organizations, a division the size of [the one Nadella runs] would be its own company. He's got charisma, employees like him, and he's got the acumen to lead the company. Not having been a CEO is not necessarily a minus here."
Born in Hyderabad, India, Nadella joined Microsoft in 1992 after working at Sun Microsystems. He received a bachelor's degree in electrical engineering from Mangalore University in Karnataka, south India; a master's degree in computer science from the University of Wisconsin; and a master's degree in business administration from the University of Chicago.
Patrick Moorhead, president at Moor Insights & Strategy, is less than sanguine about the choice. "Nadella has a lot of experience, but not as much as someone who typically runs a company of the size of Microsoft," Moorhead told the Times of India newspaper. "He has spent most of his time in the enterprise space, so I think he would need a very strong lieutenant who gets the consumer market. Microsoft's biggest challenge is [the] consumer and Satya doesn't have experience in this market."
Nevertheless Nadella joins a select circle of Indian leaders of major global corporations, including Indra Nooyi, chairman and chief executive officer of PepsiCo (NYSE:PEP); Ajay Banga, the chief of MasterCard (NYSE:MA); and Anshu Jain, the co-CEO of Deutsche Bank (NYSE:DB).
Reuters commented last week, ahead of Nadella's ascent, that with his expected appointment he could well surpass all other Indian executives in terms of influence and prestige by becoming "the most powerful Indian-born tech executive in the world."
Indians already enjoy a very strong presence in the heart of U.S. technology, Silicon Valley in Northern California. A report by Neesha Bapat, the lead researcher at the Arthur & Toni Rembe Rock Center for Corporate Governance at Stanford University, recounted that waves of Indian technology graduates poured into the Valley in the 1970s and 1980s. "It was a time in India, under a socialist government, that people with capitalist ambitions felt stifled," Bapat wrote. "One by one they mastered the Valley's unwritten rules of engagement and shattered its glass ceiling." Bapat cited certain highlights of these early Indian "tech pioneers," like Vinod Dham, who created breakthrough technologies such as the Pentium chip, and entrepreneurs like Kanwal Rekhi and Vinod Khosla, who co-founded companies like Excelan and Sun Microsystems.
As long ago as 1999, Bapat reported, a study by Anna-Lee Saxenian, the dean of the UC-Berkeley School of Information, revealed that between 1980 and 1998, Indians founded 7 percent of all tech startups in Silicon Valley. In 2007, a subsequent survey by Saxenian, in tandem with professor Vivek Wadhwa and professor F. Daniel Siciliano of Stanford Law School, discovered that fully one-fourth of the startups in the whole U.S., and more than half in Silicon Valley were founded by immigrants, led by Indians.
Despite the fact that Indians accounted for less than 1 percent of the entire U.S. population at the time, they founded 13.4 percent of Silicon Valley's startups and 6.5 percent of all startups nationwide.
Outside of Silicon Valley, Indian tech entrepreneurs are also flourishing across California, Massachusetts, New York, New Jersey, Texas and Florida – all creating companies in proportions wildly in excess of their overall small population numbers. Bapat's report concluded that between 2006 and 2013, engineering and tech companies founded by immigrants (not just Indians) employed well over a half-million workers and generated $63 billion in revenues.
The San Jose Mercury News reported in late November that Asian-Americans (which include Indians) comprise more than one-half (52 percent) of the technology workforce in the Bay Area, replacing white, Hispanic and black workers.
Between 2000 and 2010 the Asian proportion of tech workers jumped from 39 percent to 52 percent. "It's the new world -- a world in which whites are not the majority," said Jan English-Lueck, associate dean of the college of social sciences at San Jose State University. "Other people are being displaced."
However, while more than one-third of Microsoft's workforce are reportedly of Indian descent, Indians have yet to occupy senior management positions in the company in large numbers.
Wadhwa also indicated that in Silicon Valley, one finds Indians in senior positions in practically all tech firms other than Apple (NASDAQ:AAPL), which also has been insular like Microsoft. "[Indians] have achieved extraordinary success," he added. "My research team had documented that 15 percent of Silicon Valley's startups have an Indian CEO or CTO [chief technology officer]."
Thus, Indians and Indian-Americans occupy an odd place in high-tech corporate America. their employment in such companies far surpass their proportion in the overall U.S. population. But relative to their high participation in tech and other firms, their presence at the very highest levels of corporate power somewhat lags. In December 2009, Forbes magazine identified eight Indian CEOs at large U.S. companies (i.e., those with annual revenues of at least $2 billion).
Dr. Anna Danielova, associate professor of finance at the DeGroote School of Business in Hamilton, Ontario, Canada, also noted the following Indian CEOs of U.S. companies: Francisco D'Souza of Cognizant Technology Solutions (NASDAQ:CTSH); Sanjay Mehrotra of SanDisk (NASDAQ:SNDK); Ravichandra Saligram of OfficeMax (NYSE:OMX); Dinesh C. Paliwal of Harman International Industries (NYSE:HAR); and Shantanu Narayen of Adobe Systems (NASDAQ:ADBE). "I think given the interconnectedness and globalization of today's business environment, it is only natural that people of Indian descent who constitute one-sixth of the world's population [should] finally start appearing on [the] S&P 500 CEO list," she said. "But there was no major strides in the last five years, it seems."
It is reasonable to assume that Indians will continue to move up ever higher in U.S. corporations.
"It's not a surprise that we're seeing Indians rise in corporate ranks," said Richard Herman, co-author of a book entitled "U.S., Immigrant Inc.," to Forbes. "Of all the immigrant groups coming in today, Indians are head-and-shoulders above others, and this is partly because of their English-language skills and also the advanced education that many of them are bringing to the U.S."
FOR FREE to continue reading
✔️ Unlock the full content of International Business Times UK for free
offer available for a limited time only
✔️ Easily manage your Newsletters subscriptions and save your favourite articles
✔️ No payment method required
Already have an account? Log in
© Copyright IBTimes 2023. All rights reserved.