Midsize SUV Crash Tests 2015: Results Show 'Poor Or Marginal' Ratings For Chrysler, Dodge, Jeep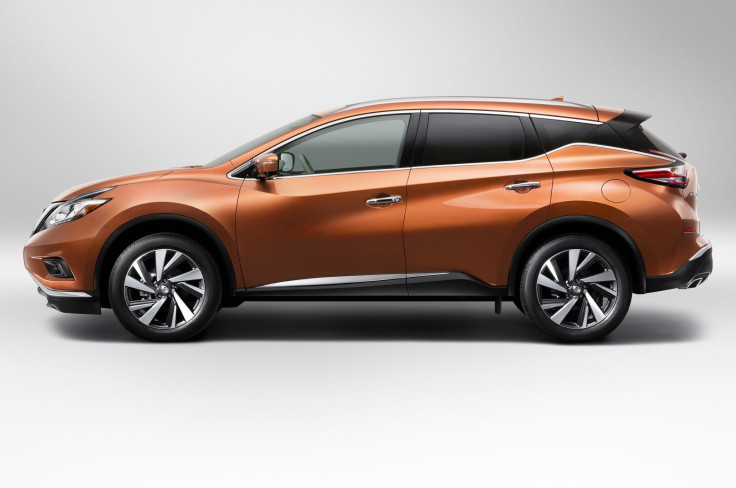 Safety-conscious consumers should pick carefully from the increasingly popular midsize SUV segment. According to the latest tests from the Insurance Institute for Highway Safety, automakers are struggling to pass a certain crash test designed to mimic common front-end collisions.
"This test presented a major challenge for manufacturers when it was introduced three years ago, and many have adapted quickly," IIHS's chief researcher David Zuby said in a statement Tuesday announcing the results of seven vehicles put through the so-called small overlap front test. The test is more rigorous than conventional full front-end collisions and is designed to simulate what happens when a vehicle's front corner catches the brunt of a 40 mph crash. The impact tests the structural integrity of the occupant's compartment zone.
The results?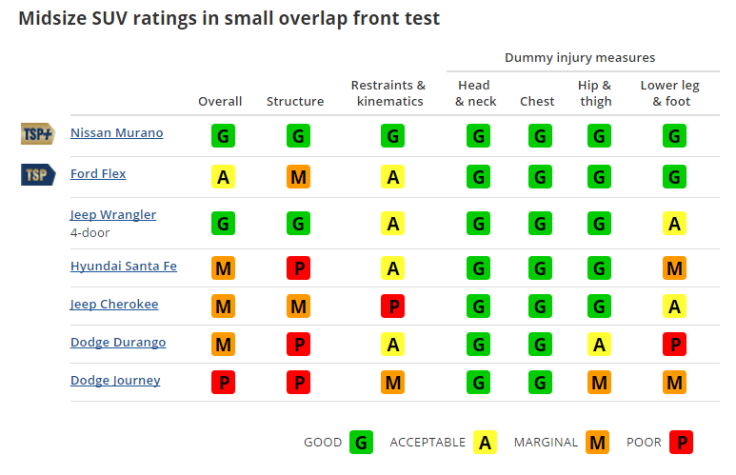 The tests showed that the safest 2015 model year midsize SUVs are the Nissan Murano and Toyota Highlander with the optional auto-braking package that automatically decelerates the vehicles when their sensors detect an imminent collision. The IIHS named these two vehicles (with the optional crash avoidance systems) the cream of the safety crop of seven 2015 model year midsize SUVs. The other five that ranked well were the Chevrolet Equinox, Ford Flex, GMC Terrain, Kia Sorento and Nissan Pathfinder.
Bottom-ranking midsize SUVs for the 2015 model year included the Dodge Journey, Dodge Durango, Jeep Cherokee and Hyundai Santa Fe. The Journey received "poor" rankings for overall performance and structural integrity, which means the occupant's cabin collapsed to a degree that the driver's legs could sustain considerable injury. In contrast, the Nissan Murano's compartment zone remained largely intact with the driver's knees cushioned by air bags.
"Chrysler, Dodge and Jeep have had some successes with redesigned models, but they haven't done much in the way of interim improvements," said Zuby. "As a result, they still have many models that rate poor or marginal."
Smaller SUVs, also known as crossovers because they're utility vehicles built on sedan platforms, are increasingly popular in the U.S. as consumers move away from full-sized non-luxury sedans and into compact and midsize crossovers. Americans bought 1.82 million non-luxury midsize crossovers last year compared to 2013, a 12 percent increase.
The 2014 model year was the first time midsize SUVs received a good or acceptable rating in the small overlap crash test, led by the Chevrolet Equinox, GMC Terrain and Toyota Highlander. Losers for that model year included the Honda Pilot, Mazda CX-9 and Kia Sorento.
© Copyright IBTimes 2023. All rights reserved.