Mike Brown Update: Ferguson Shooting Protesters March, National Guard Close By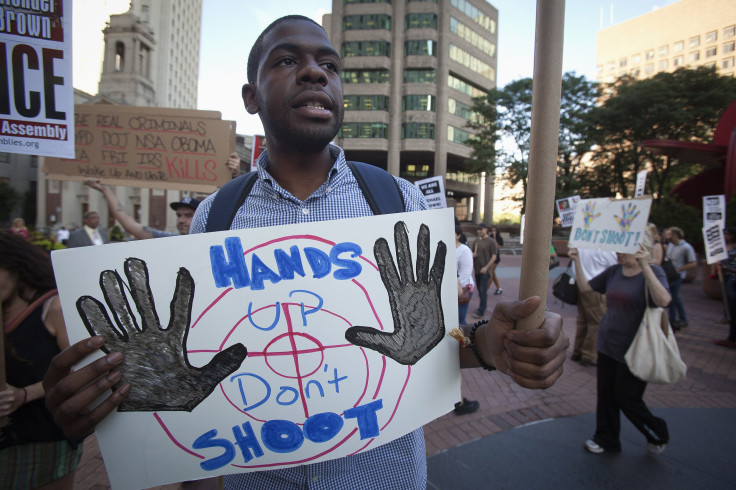 FERGUSON, Mo. -- There were National Guard troops and cops with their vehicles outside the Ferguson Unified Command Center on Monday evening. Meanwhile, on West Florissant Street, where protesters have gathered every night since 18-year old Michael Brown was killed by a white police officer, the crowds were marching. In what has become their signature stance, they walked with raised hands. Many held up cardboard signs calling for justice.
The now familiar calls of "No justice no peace" and "Hands up, don't shoot" rang through the air as the protesters walked, and walked ... and walked.
"Keep movin' everybody, don't stop," one woman yelled to a group of teenagers leaning against a car. Immediately they got moving.
Earlier Monday, police told protesters that they could continue to demonstrate -- as long as they didn't gather in large groups or stand still. (The presence of the rapper Nelly, who had come to show solidarity, made it difficult to keep the crowds moving; people couldn't help swarming around him.)
Most of the protesters formed a line nearly as long as the street itself, and tried to keep moving.
"Yeah I'm tired, but what can we do really? If we stop, this killer-cop stuff will continue," said Timothy Bell, 36, who has been out protesting every night.
Ferguson has seen a week of protests about the killing of unarmed teenager Michael Brown and still, night after night, city officials seemed to be inventing their responses on the fly. The inconsistency has hurt attempts to communicate and build relationships with the crowds and onlookers.
"I don't trust it," said Ferguson resident Ryla Lardge of the National Guard's relatively low-key presence on Monday evening. "Every time it's something different."
She lives around the corner from the McDonald's that has become one of the focal points of the protests.
"How can they expect us to trust them if it's always different. I mean, look at this," said Brandy Shields, 17, as police formed a line blocking a group of at least 150 protesters from crossing the street.
Last week, local police used military tactics to quell demonstrators who had gathered in anger after the white officer, now identified as Darren Wilson, fatally shot the unarmed black teenager. Their decision to use tear gas on protesters and arrest journalists prompted outrage among local residents and civil rights groups around the country.
Monday evening Getty Images photographer Scott Olson was arrested in Ferguson as he shot images of the marchers, said a coworker. The FAA has also extended the restrictions on flights over Ferguson to Aug. 25.
The situation has drawn attention to the militarization of local police forces, along with criticism and frustration about the mixed messages coming from local law enforcement.
"It's a very fine line: Your main jobs as an officer are to protect life and property," said John Pollini, professor at the John Jay College of Criminal Justice at the City University of New York.
"When you've got a small police force and you don't have as many resources you have to be aggressive right out of the gate," said Pollini, who worked with the New York Police Department for 33 years.
"It's like a little dog and a big dog, it's always the little one who barks the loudest," he said.
On Aug. 14 the Missouri Highway Patrol, led by Capt. Ron Johnson, took control over Ferguson's security. Captain Johnson told reporters that troopers would not wear gas masks that night, and he walked with protesters through the city answering questions and listening to their concerns.
"Our task here is to ensure safety of the citizens of Ferguson, [that] their right to gather is maintained. That's what we're going to do," said Johnson. "This is our opportunity to show you that you can trust us," he said.
Officers distributed copies of a police report and surveillance video footage of what happened in the store before Brown was shot. Ferguson Police Chief Tom Jackson referred to the incident as a "strong-arm robbery." However, he later said that officer Wilson wasn't aware that Brown was a robbery suspect at the time, and was instead stopped for walking in the street and blocking traffic.
That Friday night, protests seemed calm. Demonstrators played music and danced in front of the burnt-down convenience store QuikTrip where they had been convening. Some families walked the streets, holding signs as cars passed by honking horns. But around 11 p.m. everything changed.
"This is no longer a peaceful protest," police said through loudspeakers, and warned protesters to clear the street. Soon after, some people began looting nearby stores and at least one person was seen holding a Molotov cocktail, telling protesters to "move back, now."
On Saturday Missouri Gov. Jay Nixon declared a state of emergency and imposed a curfew in Ferguson. Soon after the midnight cutoff, police moved toward a group of protesters that remained, telling them that if they stayed in the street, they would be arrested for breaking curfew; the cops used tear gas. By the end of the night, seven people had been arrested.
At an early morning press conference a few hours later, Johnson told reporters that the actions were taken not because of a curfew violation but because police received a 911 call reporting that one of the protesters had been shot.
"We needed to protect the good people of Ferguson, their businesses and their property," Johnson said.
On Sunday demonstrators returned to the scene again, with families, children and others marching and chanting as usual. But hours before curfew was set to begin, police moved in on the group with tear gas once again, telling them to disperse or risk arrest.
Later at a press conference, police said they heard reports of shots fired on Canfield Street, where Brown was killed. They also said a group of hundreds of protesters had converged on their command headquarters with Molotov cocktails, as local businesses around the neighborhood were looted and "overrun."
On Monday, Missouri Gov. Jay Nixon announced that the state's National Guard would be leading new efforts to "help restore peace and order in Ferguson," after "coordinated" attacks on civilians and law enforcement officers the previous night.
The Guards have a "limited mission," he said.
"With these additional resources in place, the Missouri State Highway Patrol and local law enforcement will continue to respond appropriately to incidents of lawlessness and violence, and protect the civil rights of all peaceful citizens to make their voices heard," the statement says. It added that there will be no curfew Monday night.
In a tense few moments Monday night, violence seemed possible. That may lead to another change of tone and tactics on Tuesday.
FOR FREE to continue reading
✔️ Unlock the full content of International Business Times UK for free
offer available for a limited time only
✔️ Easily manage your Newsletters subscriptions and save your favourite articles
✔️ No payment method required
Already have an account?
Log in
© Copyright IBTimes 2023. All rights reserved.