Missing AirAsia Flight Pushes Company Stock Down Most In 3 Years; Rebound Hoped After Initial Reaction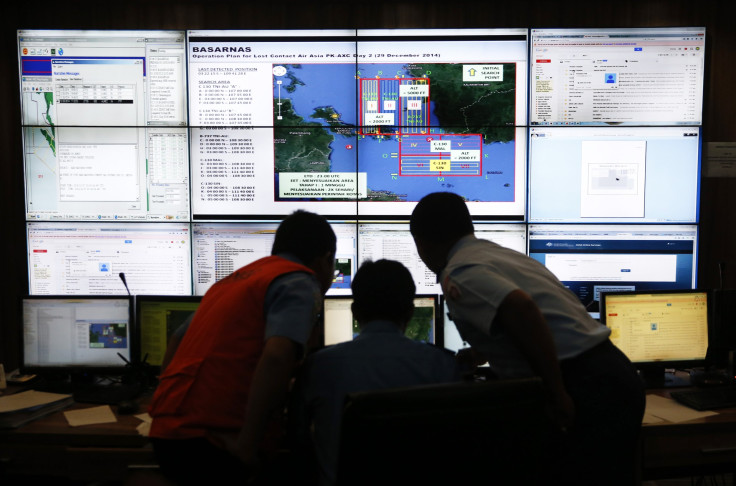 AirAsia, the Malaysian low-budget carrier, was on track to suffer the biggest hit to its stock price in three years on Monday, according to Bloomberg, after one of its planes went missing on Sunday with 162 people on board. The airline's stock reportedly dropped as much as 13 percent during the day, and was down 8.2 percent at 11:31 a.m. local time (10:31 p.m. EST).
The Hong Leong Investment Bank Bhd also changed its rating on the stock from a 'buy' to a 'sell' on Monday, and lowered its target price, Bloomberg reported. The fall in the share price comes as officials from Indonesia and other Southeast Asian countries hunt for the Airbus A320-200, which went missing on a trip from Surabaya in Indonesia to Singapore. The company's competitor, Malaysia Airlines, was taken over by the government after two airline disasters this year further damaged the company's profitability.
"I was expecting yields to at least maintain on a year-on-year basis in 2015, but now I'm expecting them to decline by up to five percent," Daniel Wong, an analyst at Kuala Lumpur-based Hong Leong Investment Bank, said, according to Reuters.
Shares of Asia Aviation, the holding company for Thai AirAsia and in which the AirAsia group has a 45 percent stake, fell 3.6 percent, Reuters reported. Hafriz Hezry, an analyst with AmResearch, predicted that the shares might fare better after the initial reaction to the missing plane, Reuters reported.
"The market reaction is quite natural. I am not surprised," Shukor Yusof, founder of aviation research firm Endau Analytics, said, according to Agence France-Presse, adding: "I think investors confidence will return quickly since the airline has a solid business model."
AirAsia Bhd. is primarily a short-haul, low-cost carrier that was founded in 1996 and listed on the main market of the Bursa Malaysia Securities Bhd. in 2004. The company has made a successful business of offering heavily discounted air fares on national and international routes in Asia. According to AirAsia CEO Tony Fernandes, the group has carried 220 million passengers in 13 years, and had no fatalities prior to the disappearance of flight QZ8501.
Meanwhile, the search for the plane is focused on Bangka Island, about halfway between Surabaya and Singapore, and the U.S., UK, South Korea, Singapore and India have offered to help in the search-and-rescue operations.
© Copyright IBTimes 2023. All rights reserved.