Missing Argentine Submarine Latest: New Object Detected In ARA San Juan Search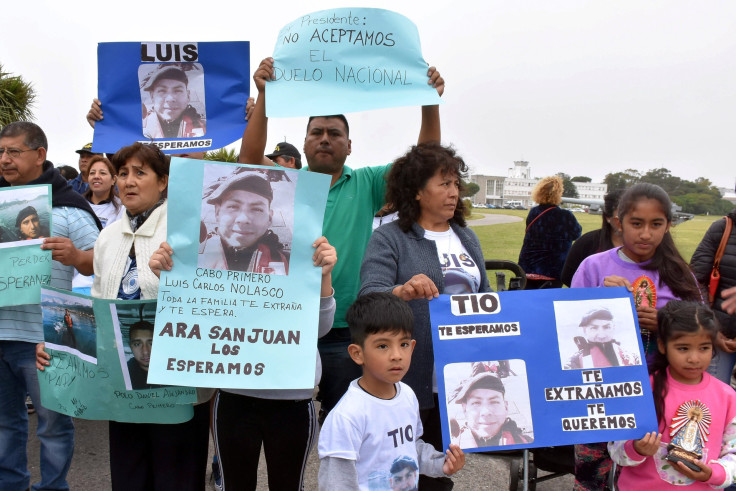 The Argentine navy said it was investigating another object found by way of sonar imagery in the search for missing military submarine the ARA San Juan. Officials said the new object was found 3,100 feet underwater.
The Argentine navy was attempting to make a visual inspection of the object, spokesperson Enrique Balbi said at a press conference Sunday, according to the Associated Press.
The new object was not the first to be inspected in the search for the missing submarine. A previous underwater sonar image sparked hopes but turned out to show a sunken fishing vessel and not the ARA San Juan. A Russian submersible was sent to review that object, found some 1,565 feet below sea level, which appeared to show a 196-foot long vessel of some sort. Upon further investigation by the Russian submersible, hopes that it might have been the submarine were dashed.
"It was confirmed that it wasn't the submarine's shell [but a sunken fishing vessel]," Balbi said this weekend, according to the Associated Press. "[The navy] regrets that without a rigorous analysis, expectations were generated in the families and society, which must now face another frustration."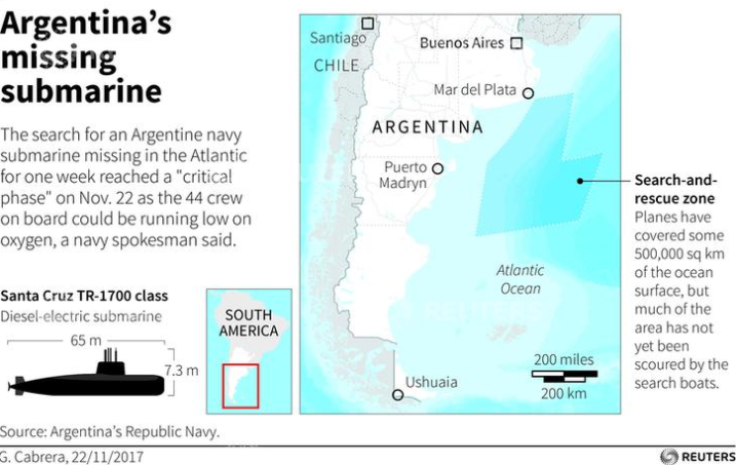 The rescue mission for the submarine, which disappeared Nov. 15, was officially called off last week. The submarine was on its way to Mar del Plata from the southern city of Ushuaia when it last made contact with land to report water entering the vessel and a subsequent battery malfunction. The commander, however, made contact again that same day to say it was journeying forward using alternate batteries without issue. It was the last time the ARA San Juan made contact.
The vessel likely had only seven to 10 days' worth of oxygen when it vanished, authorities suspected. Officials said due to the amount of time that had passed there was likely no one left alive on board.
"The extreme environment, the time elapsed and the lack of any evidence eliminates a scenario compatible with human life," said Balbi. "These are hours of intense pain and anguish [for relatives] in light of the loss of their loved ones, our 44 comrades."
Despite terminating the rescue mission, the search would continue. Eighteen countries were involved in the search, comprised of 4,000 people, nine aircraft and 28 ships, authorities said.
"Despite the magnitude of these efforts, we've been unable to find the submarine," Balbi said.
Relatives of those crew members on board the submarine staged a protest Sunday denouncing the government's response to the situation. Family members marched from a naval base in Mar del Plata chanting "Search and Rescue!" while holding photos of their loved ones, Reuters reported.
"Our disagreement is with the government, not with the navy," said Marcela Moyano, the wife of crew member Hernan Rodriguez. "Whoever is responsible needs to be held responsible."
© Copyright IBTimes 2023. All rights reserved.