Argentina's Missing Submarine: Everything We Know About The ARA San Juan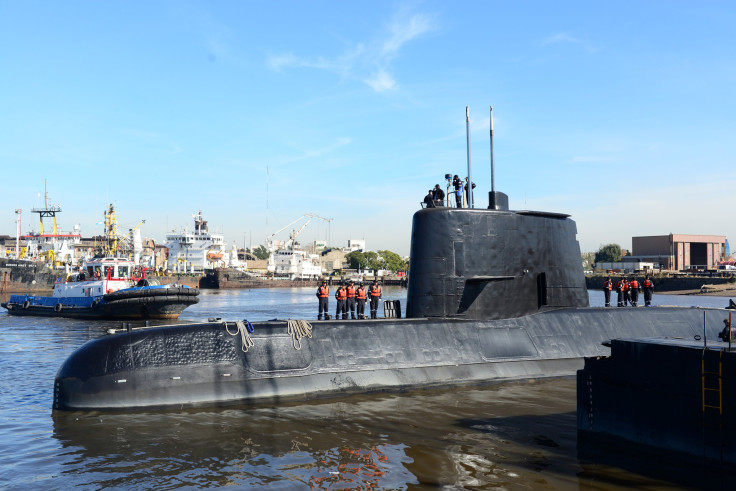 It's been more than two weeks since an Argentine military submarine went missing during a naval exercise. As hopes of finding the crew alive dwindled, a multinational search continued Wednesday to scour the Atlantic for any potential sign of the vessel.
The submarine was headed toward Mar del Plata naval base after it left the southern city of Ushuaia. Its last known location was off the coast of Puerto Madryn in Southern Argentina.
Last Known Hours
A timeline released by the Argentine military revealed details about the submarine's last known hours Nov. 15. At 12:30 a.m., the submarine captain made contact with its commander on land in a message shown below stating that seawater had entered the vessel through its "snorkel." The water caused the battery to short circuit and emit smoke or potentially a fire, which was put out. The submarine was told to continue using its other batteries.
Another message, this time sent to land at 7:30 a.m., reported that the vessel was traveling without any problems, according to the timeline. Some four hours after that message, at 10:31 a.m., a sound consistent with an explosion was recorded in the ocean near the ARA San Juan's last known location.
Message To Land
A leaked communication from the commander of the ARA San Juan was obtained by Argentine television channel A24. The message, reportedly sent Nov. 15 at 8:52 a.m. detailed problems aboard the craft.
"Entry of seawater through the ventilation system into a battery tank No. 3 caused a short circuit and the beginnings of a fire in the battery room," the message reportedly said. "Bow batteries out of service. At the moment in immersion propelling with split circuit. No updates on personnel, will keep informed."
Possible Explosion
The Comprehensive Nuclear Test Ban Treaty Organization, which listens for anomalous sounds consistent with secret atomic blasts, detected what may have been an explosion near the submarine's last known location. An explosion or implosion on the ship was not confirmed, though authorities said they were investigating the possibility.
Crew on Board
Forty-four crew members were on board the submarine went it disappeared, led by commander Pedro Martin Fernandez, 45. The crew also contained Argentina's first ever female submarine officer, Eliana Maria Krawcyzk, 35.
The other crew members were Jorge Ignacio Bergallo, Victor Andrew Maroli, Fernando Ariel Mendoza, Fernando Vincente Villareal, Diego Manuel Wagner, Adrian Zunda Meoqui, Renzo David Martin Silva, Jorge Luis Mealla, Alejandro Damian Tagliapetra, Javier Alejandra Gallardo, Victor Hugo Colonel, Walter German Real, Hernan Ramon Rodriguez, Alberto Cipriano Sanchez, Ricardo Gabriel Alfaro Rodriguez, Victor Marcelo Enriquez, Daniel Adrian Fernandez, Hugo Arnaldo Herrera, Luis Marcelo Leiva, Roberto Daniel Medina, Celso Oscar Vallejos, Cayetano Hipolito Vargas, Federico Alejandro Alcaraz Coria, Hugo Dante Ceasar Aramayo, Alberto Ramiro Arjona, Enrique Damian Castillo, Leandro Fabian Cisneros, Sergio Antonio Cuellar, Franco Javier Espinoza, Luis Esteban Garcia, Cristian David Ibanez, David Alonso Melian, Jorge Ariel Monzon, Luis Alberto Niz, Luis Carlos Nolaso, Jorge Isabelino Ortiz, Fernando Gabriel Santilli, German Oscar Suarez, Mario Armando Toconas, Jorge Eduardo Valez and Anibal Tolada.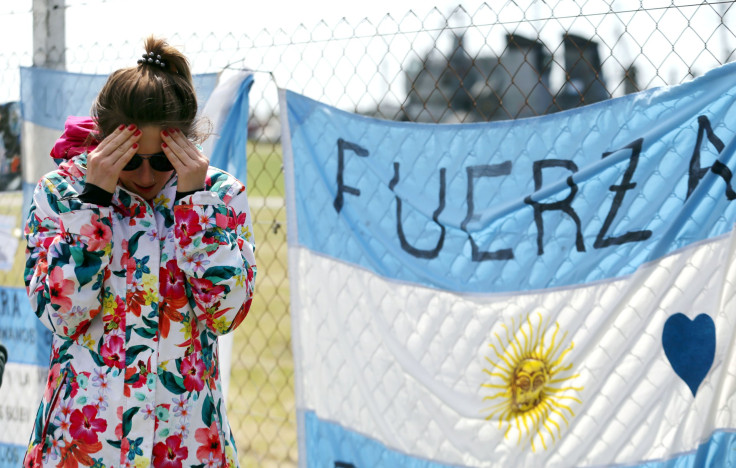 Oxygen Supply
Officials said they believed the ARA San Juan had only seven days' worth of oxygen left when it went missing. It was possible, however, that the submarine made it close enough to the surface to refill before submerging once again. Authorities said at the beginning of this week that it was possible the crew was in an "extreme survival situation."
Accusations of Unsafe Conditions
Some family and friends of those on board the ship leveled accusations of unsafe conditions at the Argentina navy. The wife of one crew member alleged that the military "sent a piece of crap to sail." Navy officials, however, insisted the vessel was in good condition and that the 34-year-old submarine was inspected before it was sent out.
"The submarine doesn't sail if that's not done," Navy spokesman Enrique Balbi told reporters. "If it set off from Ushuaia, it was because it was in condition to do so."
The Search
A multitude of countries continued scouring an area some 300 miles off the southern coast of Argentina in hopes of finding the submarine. In addition to those from Argentina, search and rescue crews from the United States, the United Kingdom, Chile, Brazil and numerous other nations joined in the effort.
About the ARA San Juan
The missing submarine, built by Germany's Thyssen Nordseewerke, is a diesel-electric class Santa Cruz TR-1700. It was commissioned in 1985 but was taken out of service to be repaired for a number of years. It was sent back to service in 2014.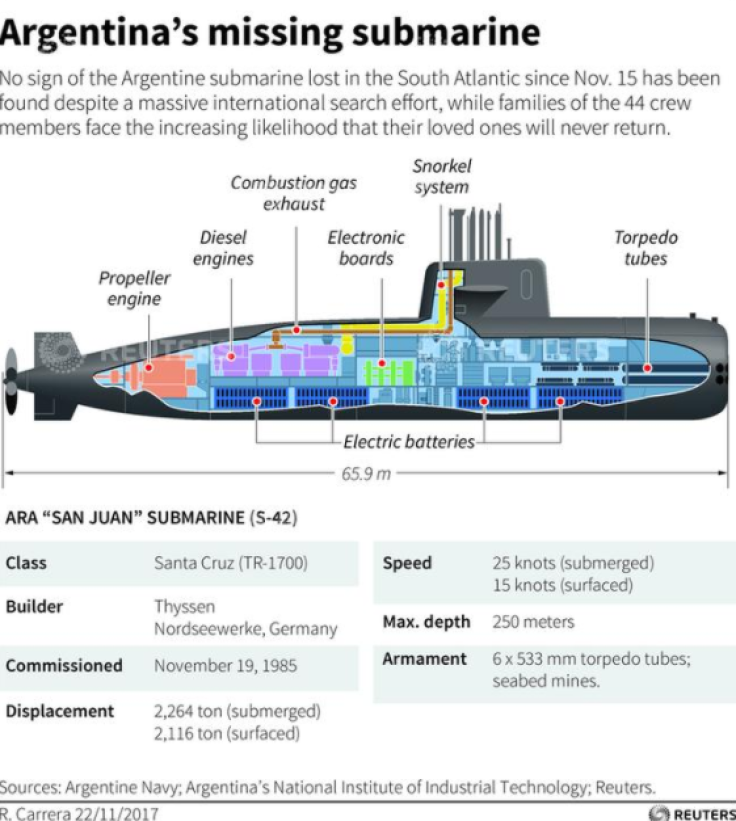 © Copyright IBTimes 2023. All rights reserved.