Missing Argentine Submarine Update: Rescue For ARA San Juan Called Off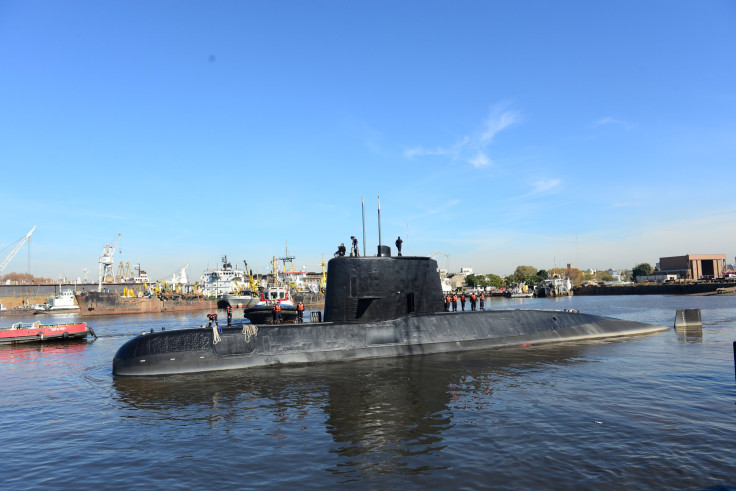 More than two weeks after an Argentine military submarine went missing during a naval exercise, authorities announced the rescue for the vessel would end. Argentine naval spokesperson Enrique Balbi said Thursday the rescue efforts for the ARA San Juan had been called off.
"There will be no rescue of the people," Balbi said, according to Radio Mitre Cordoba. "It has not been possible to locate the submarine."
The submarine departed from the southern city of Ushuaia and headed toward the naval base at Mar del Plata earlier this month. The vessel's last known location was off the coast of Puerto Madryn in Southern Argentina.
Hopes dwindled in recent days as it became less and less likely the 44 crew members aboard the ARA San Juan would be found alive. Authorities said the submarine likely had only seven days left of oxygen when it vanished.
In one of the submarine's last communications with land, the commander reported a seawater breach through the submarine's snorkel. The water caused a battery to short circuit and what was either a small fire or smoke. The fire or smoke was put out and the vessel was told to continue on its way using alternate batteries. The ARA San Juan communicated with land again later that day to say it was traveling without problems.
A few hours later, however, a sound consistent with an explosion was recorded near the submarine's last known location. The Comprehensive Nuclear Test Ban Treaty Organization, which listens for secret atomic activity, said it detected the sound. Authorities had not yet confirmed an implosion on the ship but said they were investigating the possibility.
The fate of the ship, however, still remained unclear. Some family members of those on board slammed the Argentine Navy for alleged unsafe conditions on the ship. The wife of one crew member said the military "sent a piece of crap to sail."
"They killed my brother, the bastards," one man whose brother was on the submarine told the Clarin newspaper, according to the BBC. "They killed my brother because they take him out to sail [in a vessel held together] with wire."
© Copyright IBTimes 2023. All rights reserved.