Mitt Romney And Super PAC Attack Obama's 'Cool' Factor: Will it Work?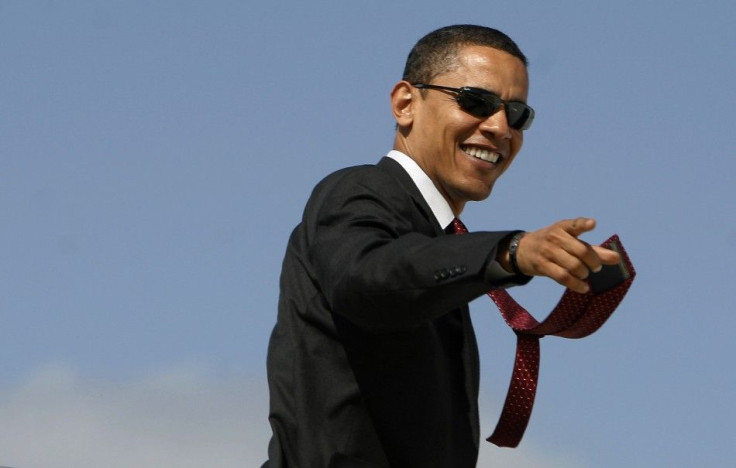 Mitt Romney may never have anything that comes close to President Barack Obama's hip and stylish image, but the likely Republican nominee is hoping to use Obama's reputation -- against Obama.
Hitting the same notes as a Karl Rove-backed super PAC ad released yesterday, Romney campaign manager Matt Rhoades released a memo that accused Obama of distracting voters from important issues with fluff and celebrity appeal.
Rhoades wrote that while Romney gave a crisp and specific critique of Obama after his Tuesday primary wins in the Northeast, Obama spent the week slow-jamming the news, striking a Heisman pose, and trying to pick a fight over student loans to help the one-in-two recent college graduates who are either jobless or underemployed as a result of his policies (which is apparently really funny stuff to the President).
Of course, this election will be decided by adults casting ballots in their precincts, not teenagers texting votes from in front of their television sets, Rhoades writes. That apparently frightens the President and his advisers right now.
Obama had appeared on NBC's Late Night with Jimmy Fallon on Tuesday night as part of his push to avoid an increase in federal student loan interest rates, joining the comedian and The Roots as Preezy of the United Steezy for their signature skit.
The anti-Obama American Crossroads super PAC, which was started by Rove, a former Bush adviser, mocked the scene in an ad called Cool. The ad also brought up a number of other occasions when Obama came across as hip and culturally aware, such as when he wore 3-D glasses, sang an Al Green song at a New York fundraiser, and called Kanye West a jackass.
The ad then cuts to facts about student debt and jobless and unemployed college grads, when it then says that 85% of them are moving back in with their parents.
It's not unusual for campaigns to echo messages similar to those of the super PACs that support them, but the celebrity or president theme has come up before. In 2008, Sen. John McCain released an ad that depicted the future president as a star as it questioned Obama's leadership abilities, his disapproval of offshore drilling, and his positions on electricity taxes -- while simultaneously interchanging images of Obama (and astonishingly large crowds screaming his name) with pictures of Britney Spears and Paris Hilton.
Whereas the narrator in McCain's video says, he's the biggest celebrity in the world ... is he ready to lead? -- the American Crossroads ad asks, After four years of a celebrity president, is your life any better?
In retrospect, the McCain ad largely backfired in its attempt to capture the youth vote. Paris Hilton responded with a Funny or Die video mocking McCain for being an old guy and declared that she would be taking the White House with a hybrid of both candidates' energy plans. Sixty-six percent of voters under 30 years old voted Democrat in the 2008 presidential election. McCain got less than half of that, with 32 percent.
Donald Trump, for one, thought the American Crossroads ad failed miserably.
I thought it was one of the worst commercials, in terms of what they were trying to do, that I've ever seen, Trump said on MSNBC's Morning Joe.
They are making Obama look great. They are making him look like that's the man we want to be president. I looked at that clip very closely, and actually, I couldn't believe it.
Romney's campaign may be mocking Obama's swagger, but the candidate has tried to reach out to late-night TV audiences himself. He's appeared on both the The Tonight Show with Jay Leno as well as Late Night with Dave Letterman, and he is flirting with the idea of a Saturday Night Live cameo -- if it's funny.
© Copyright IBTimes 2023. All rights reserved.