Mitt Romney: 'Saturday Night Live' Guest Spot 'Sounds Like Fun'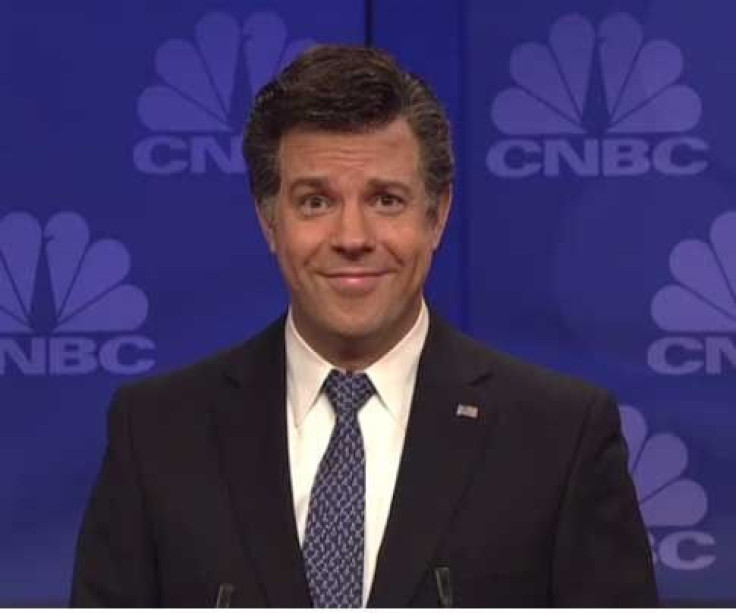 UPDATE: In an interview with ABC's Diane Sawyer, Romney denied being approached for the opportunity, but said a skit sounded like fun.
I haven't made a decision on that, just heard about it, he said in an interview to be aired on ABC later tonight, according to ABC News. Of course it would depend on the nature of the skit. I want it to be funny.
--
Mitt Romney may not have the same celebrity magnetism as former vice presidential candidate Sarah Palin, but America may be seeing him up on the Saturday Night Live stage in the near future.
Lorne Micheals, the show' executive producer has offered a guest spot to the like Republican presidential nominee, the New York Times' Maureen Dowd reported in an op-ed published Sunday. Romney is reportedly considering it.
It wouldn't be the first time the former Massachusetts governor took on late night television. Romney appeared on NBC's Tonight Show with Jay Leno late March to talk about the election, health care, and poked fun at then-presidential rival Rick Santorum by joking he'd appoint him a press secretary. He also appeared on the Letterman Show in December.
'Plastic' Mitt
But the GOP front-runner has a reputation of being stiff and uncharismatic. Although writer Jim Downey told Dowd that he's already tired of Romney, he thinks he could have potential. He was funny on Letterman, giving the Top Ten List, he said.
With a Republican primary that included impressionable characters like Michele Bachmann and Herman Cain, as well as hilariously awkward moments like Rick Perry's debate gaffe, the general election has a tough act to follow.
If Romney goes on SNL, he'll also be facing high expectations thanks to the Sarah Palin's guest spot and Tina Fey's famous impression of the former Alaska governor. 2008 GOP candidate Sen. John McCain, R-Ariz., also had a guest spot on the show.
I wish there could be a crazy brokered convention with someone we've never heard of to keep it fresh, Downy told Dowd. But you don't get a gift like Sarah Palin very often, and I'm sure it'll never happen again.
© Copyright IBTimes 2023. All rights reserved.