Mitt Romney Romps Herman Cain in New Hampshire, But Support May Be Fleeting: Polls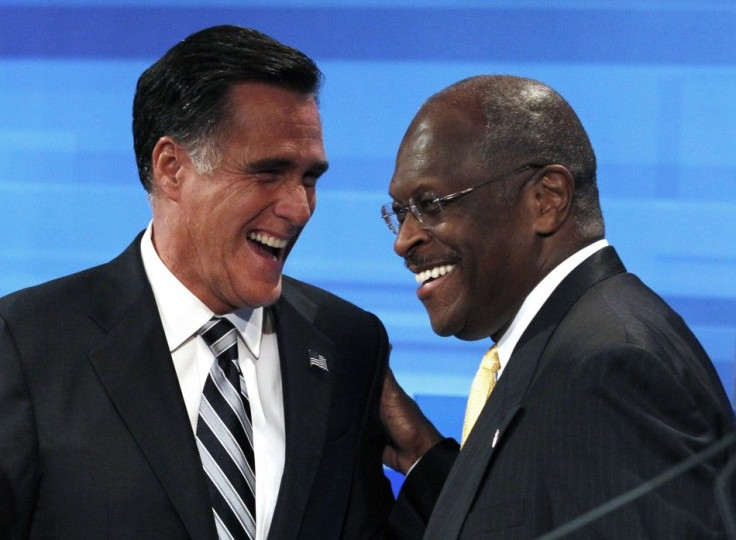 Mitt Romney holds a wide double-digit lead in the New Hampshire Republican presidential primary, but businessman Herman Cain, whose campaign is surging in national polls, has catapulted to second place, according to two new surveys.
As a former governor of Massachusetts, Romney is expected to do well in New Hampshire, where he has been practically running since his losing bid for the 2008 GOP presidential nomination. But his support in the Granite State is far from set.
A Harvard and St. Anselm New Hampshire Institutes of Politics poll from Monday showed Romney leading the pack with 38 percent, though only 10 percent of voters say they will definitely vote for the former Massachusetts governor.
Another poll from the University of New Hampshire released Friday shows Romney with 37 percent support, with Cain in second place at 12 percent. Texas Gov. Rick Perry came in fourth place, behind former Utah Gov. Jon Huntsman, with four percent of support from those polled.
Romney: Considered Most Likely GOPer to Defeat Obama
In addition to holding a big lead over his rivals in New Hampshire, Romney is also considered the best opportunity to beat President Barack Obama in 2012. He also has universal name recognition in the state and has a 47 percent favorability rating, according to the UNH poll.
Still, the polls highlight some hurdles Romney faces. Republican voters in both polls say that it is more important for the GOP presidential candidate to match their values rather than being the best shot at defeating Obama.
Meanwhile, Cain, a former CEO of Godfather's Pizza, has a 30 percent favorability rating, putting him second among the pack.
Cain's ascendency in the GOP Republican presidential primary pecking order poses a problem for Romney in New Hampshire.
Cain could blunt Romney's victory with a strong second place finish, like Bill Clinton's surprisingly slim single-digit loss to New England's favorite son Sen. Paul Tsongas in the 1992 New Hampshire Democratic primaries.
It might be that Romney doesn't just need to win here but he needs to beat someone, Galdieri said.
Cain: Enduring Support or GOP Flavor-of-the-Month?
That scenario seems less likely to happen if the rest of the GOP presidential candidates fail to separate themselves from the pack.
There's no one alternative candidate to Romney that's really emerged and taken a regular second place position in the polls, Galdieri said. I look at [Cain's support] and I wonder how much of that is really honest-to-gosh hardcore support for Herman Cain and how much of it is voters who are dissatisfied with Mitt Romney as a candidate, essentially trying on Cain for size.
© Copyright IBTimes 2023. All rights reserved.