'Monster' Fracking Wells Guzzled 3.3 Billion Gallons Of Water In Drought-Stricken Areas, Environmental Report Finds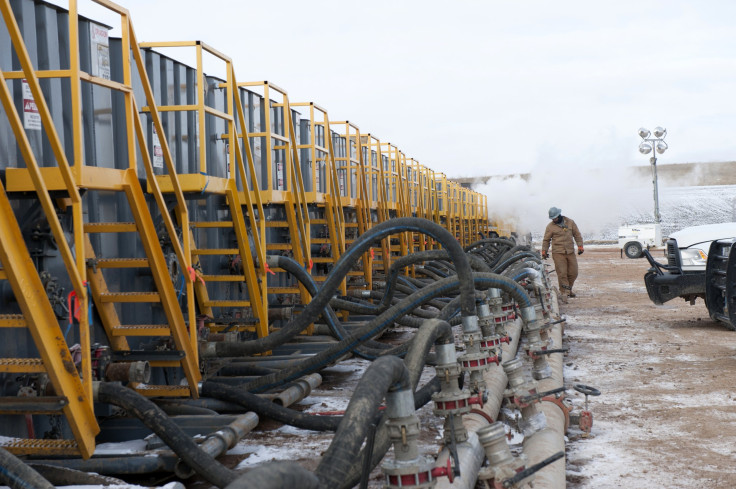 Hundreds of massive oil and gas wells in the United States guzzled 10 million to 25 million gallons of water each through the hydraulic fracturing, or fracking, process, a study found. Many of those wells were drilled in Texas, where large swaths of the state are suffering exceptional or extreme drought.
More than 3.3 billion gallons of water was used to drill 261 "monster wells" in the 3 1/2-year period from April 2010 to December 2013, according to the Tuesday report by Environmental Working Group, a Washington research and advocacy group. About two-thirds of those fracking operations were in drought-stricken areas in Texas, Pennsylvania and Colorado.
"The amount of water used in these wells is staggering," Bill Walker, a co-author of the report and EWG consultant, said in a statement. "The water used to frack a single monster well could meet the water needs of a drought-stricken county in Texas twice over."
The U.S. Environmental Protection Agency has estimated the largest fracking projects use as much as 5 million gallons of water on average for drilling. But the EWG report suggests that figure is too low.
During the fracking process, huge amounts of water, chemicals and sand are injected at high pressure underground to crack open shale rock formations and release their oil and natural gas deposits. Much of this briny fracking water flows back up to the surface after drilling. While some of it can be treated and reinjected into wells, large quantities are stored in deep underground disposal wells. (These water deposits have been linked to swarms of earthquakes in drilling-heavy states like Oklahoma, Texas, Arkansas and Ohio.)
Energy companies say they are looking for ways to reduce water waste and lower the costs of procuring, treating and storing the fluid. Earlier this year, General Electric Co. announced it would spend an extra $10 billion through 2020 to help explore the viability of "waterless" fracking. GE said it will partner with Norway's Statoil ASA to develop ways to inject carbon dioxide -- not water -- into shale oil and gas wells.
The EWG study is the latest in a slew of reports aimed at quantifying how the fracking process is affecting Americans' health and the environment. An October study in the journal of Environmental Health found eight types of harmful chemicals appeared near wells and fracking sites in five states at levels far above what federal regulators consider to be safe. In the summer, a separate analysis concluded at least 33 U.S. fracking firms have illegally injected diesel fuel into hundreds of oil and gas wells in a dozen states.
© Copyright IBTimes 2022. All rights reserved.
FOLLOW MORE IBT NEWS ON THE BELOW CHANNELS