Mubarak Lawyer Says Ex-President Is 'Stable'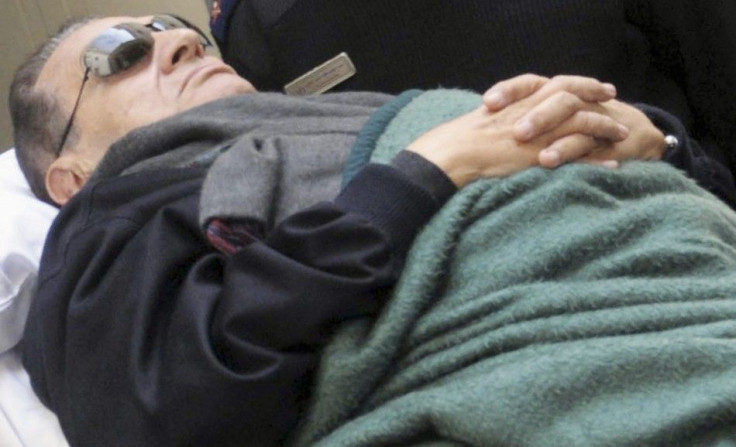 Although confusion still abounds, one of Hosni Mubarak's lawyers said on Wednesday that the former Egyptian president is in a stable condition.
Yosri Abdel Razek told the Washington Post that rumors that Mubarak had suffered a stroke or been declared clinically dead were false, adding that his client's health has been steadily deteriorating since he began serving his life sentence.
After reports that Mubarak had slipped into a coma, a military doctor said that the ex-president was conscious and breathing well.
Continuing a de facto policy established during Mubarak's rule, the government has remained quite about the state of Mubarak's health, and the reports are difficult to confirm. Mubarak, who ruled Egypt for 30 yeas until he was overthrown by mass protests in 2011, was moved to the Maadi Military Hospital late Tuesday from Cairo's Tora Prison. Various outlets have suggested that Mubarak had stroke or a heart attack, while one claimed that Mubarak fell in a prison shower and hit his head on the floor. There were also reports that doctors had declared him dead.
Mubarak is currently serving a life sentence after being found guilty of not stopping police from killing protests during the Egyptian revolution. His sudden malady comes just a day before the ruling Supreme Council of the Armed Forces names his successor. Egyptians went to the polls last weekend to vote for the next president, reportedly choosing Muhammad Mursi of the Muslim Brotherhood, a party that was banned under Mubarak's rule. Mursi slightly edged out Ahmed Shafiq, Mubarak's last prime minister.
There is now concern that Mubarak's health, coupled with a number of complaints of the Shafiq camp, will cause the ruling Supreme Council of the Armed Forces to delay the official announcement of the election results. By most accounts, Mursi won the vote with 52 percent, although Shafiq has cried fowl play, and Mubarak's ailments are not likely to alleviate the tension in Egyptian politics.
© Copyright IBTimes 2023. All rights reserved.
FOLLOW MORE IBT NEWS ON THE BELOW CHANNELS