Mysterious Hidden Chambers Discovered In Egypt's Great Pyramid Of Giza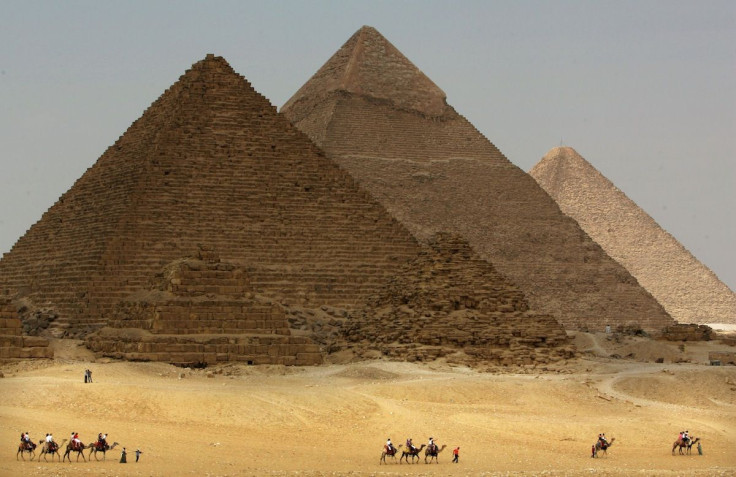 If Indiana Jones was alive (and not fictional), he would be would be fascinated by this bit of news: two secret chambers have been discovered in Egypt's Great Pyramid of Giza. The Ministry of Antiquities announced on Thursday the "two anomalies" were found in the 4,500-year-old structure, one of the Seven Wonders of the Ancient World.
As part of the Scan Pyramids project, researchers use infrared thermography, "cosmic ray" muon detectors, aerial drone photography, and laser scanning to look at the insides of such formidable structures as the four pyramids in Egypt. The non-invasive and non-destructive project began last October with the Bent Pyramid at Dahshur and is in its final weeks.
"We are now able to confirm the existence of a 'void' hidden behind the north face, that could have the form of at least one corridor going inside the Great Pyramid," Scan Pyramids said in a press release.
Scan Pyramids explained in a statement that muons are "similar to X-rays which can penetrate the body and allow bone imaging" and "can go through hundreds of meters of stone before being absorbed."
The pyramid of Giza was last on the list, as it is the oldest and largest of the three pyramids in Egypt. Built under King Khufu, it was intended as a pharaoh's tomb. While details of the chambers are unknown, researchers are now looking to conduct further tests on the 480-foot high monument to determine their function, nature and size.
"The precise shape, size, and exact position of this void is now under further investigation. It should be done with the help of 12 new Muon Emulsion plates that are installed in the descending corridor, and will be collected by the end of October 2016," said the team.
However, skepticism remains about the recent discovery. Zahi Hawass, former Egyptian Minister of State for Antiquities Affairs and Director of the Giza Pyramids Excavation told Seeker, "I think there are no secret rooms and these anomalies have to do with the way the pyramid was built."
© Copyright IBTimes 2022. All rights reserved.
FOLLOW MORE IBT NEWS ON THE BELOW CHANNELS