Narendra Modi UK Visit: India, Britain Sign Over $13.7B In Deals, Finalize Civil Nuclear Agreement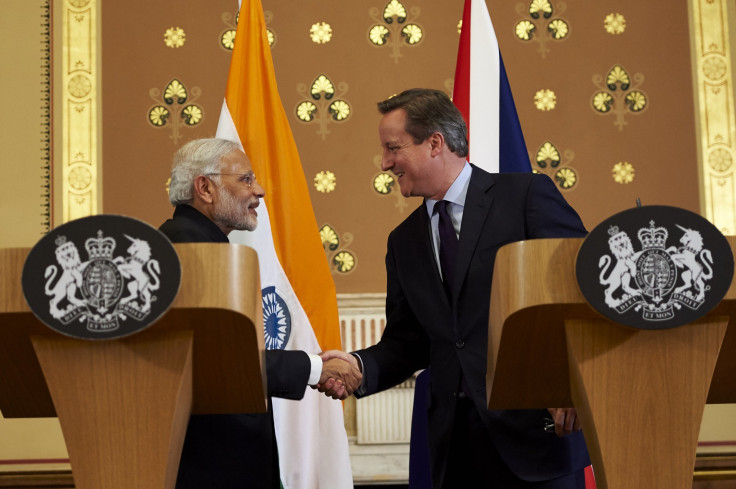 India and the United Kingdom have agreed on over 9 billion pounds ($13.7 billion) in commercial deals, and concluded negotiations over a civil nuclear deal that seeks to increase bilateral cooperation in the field of civil and military technology and nuclear research projects. The announcement came on the first day of Indian Prime Minister Narendra Modi's visit to the U.K., even as protests over a perceived rise in intolerance back home threatened to overshadow the trip.
"The two Prime Ministers welcomed the successful conclusion of negotiations on a bilateral Civil Nuclear Co-operation Agreement providing a framework for further cooperation, and announced the signing of a MoU between the UK and the Indian Department for Atomic Energy to encourage joint training and experience sharing on Civil Nuclear with the Indian Global Centre for Nuclear Energy Partnership," Modi and his British counterpart David Cameron said, in a joint statement released Thursday.
In a separate statement, the U.K. government listed out over 20 other deals and collaborations between Indian and British companies, including a 2 billion pound investment in India by British solar energy generator Lightsource Renewable Energy over the next five years, and an additional 1.3 billion pound investment by telecom operator Vodafone -- which is currently the second-largest mobile network operator in India.
Media reports published ahead of Modi's visit -- the first by an Indian prime minister in nearly a decade -- also indicated that the Indian government was looking to buy 20 Hawk training aircraft, worth up to $450 million, from BAE Systems Plc. However, details of such a deal have not yet been officially announced.
"The agreements between India and U.K. strengthen the U.K.'s position in sectors including insurance services, finance, healthcare and energy," Cameron's office said, in a statement.
The two countries also pledged to increase collaboration on a range of issues, including finance, defense, climate change and counterterrorism.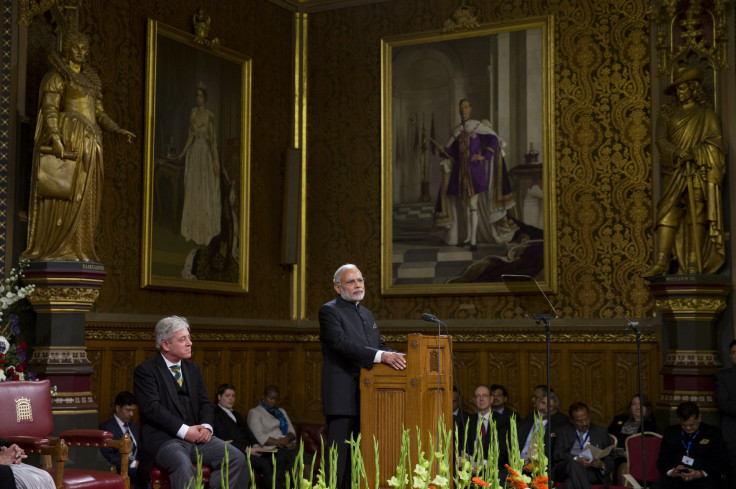 Modi's trip has been overshadowed by protests by activist groups that accused him of "unleashing of a violent authoritarian agenda" in the country. Ahead of the Indian prime minister's London trip, activists belonging to the U.K.-based Awaaz Network said that they projected an image of Modi along with the words "Not Welcome" and a swastika-style "om" symbol on the Palace of Westminster Sunday night. And, on Thursday, over 200 writers signed an open letter that urged Cameron to address free speech concerns and the "rising climate of fear" in India.
Over the past month, 40 Indian novelists, poets and playwrights have returned the prize awarded to them by the Sahitya Akademi -- India's National Academy of Letters -- to protest the killings of writers and activists critical of established religions -- including Hinduism -- and the Modi-led government's apparent silence on the issue.
Speaking at a news conference Thursday, Modi briefly touched upon the issue said that his administration "does not tolerate such incidents at all."
"India is the land of Gandhi. It is deeply entrenched in our culture and tradition that we do not accept intolerance in any form," Modi said. "India is a vibrant democracy and we are committed to protect the rights granted to every citizen under the country's constitution."
© Copyright IBTimes 2023. All rights reserved.
FOLLOW MORE IBT NEWS ON THE BELOW CHANNELS