NASA Announces New InSight Mars Mission For 2016: Robot To Drill Red Planet To Study Deep Interior [VIDEO]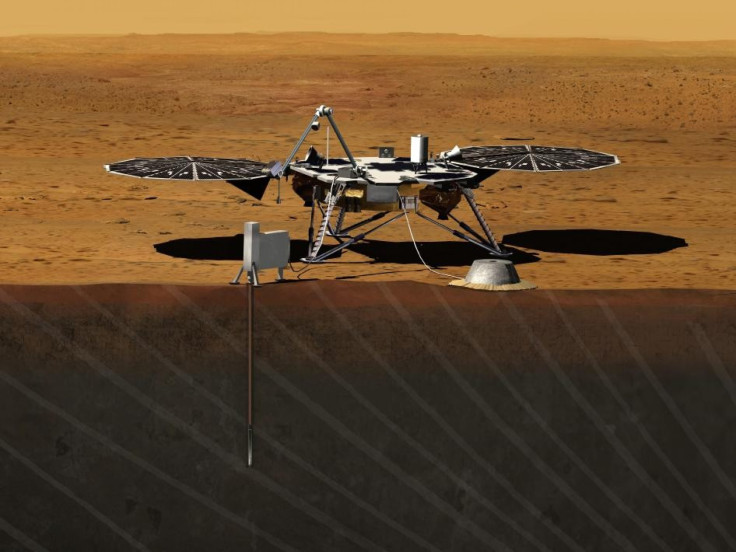 It has just been a couple of weeks since NASA's curiosity rover landed on Mars. But the space agency has already announced a successive mission that will measure the Red Planet's subterranean geology by looking deep into its interior.
The new mission, named InSight, is set to launch March 27, 2016, and will examine the deep interior of Mars to see why the Red Planet evolved so differently from Earth as one of our solar system's rocky planets.
NASA said in a statement that InSight would place instruments on the Martian surface to investigate whether the core of Mars is solid or liquid like Earth's and why Mars' crust is not divided into tectonic plates that drift like Earth's. Scientists believe that detailed knowledge of the interior of Mars in comparison to Earth will help them understand better the processes that shaped the rocky planets of the inner solar system (including Earth) more than four billion years ago.
"By using sophisticated geophysical instruments, InSight will delve deep beneath the surface of Mars, detecting the fingerprints of the processes of terrestrial planet formation, as well as measuring the planet's 'vital signs': Its 'pulse' (seismology), 'temperature' (heat flow probe), and 'reflexes' (precision tracking)," said a statement by the Jet Propulsion Laboratory (JPL).
According to NASA Administrator Charles Bolden, the selection of InSight would help them lay the groundwork for a future human mission on Mars.
"The recent successful landing of the Curiosity rover has galvanized public interest in space exploration and today's announcement makes clear there are more exciting Mars missions to come," said Bolden.
InSight will be led by W. Bruce Banerdt at JPL. InSight's science team includes U.S. and international co-investigators from universities, industry and government agencies. The French space agency Centre National d'Etudes Spatiales, or CNES, and the German Aerospace Center, or DLR, are contributing instruments to InSight, which is scheduled to land on Mars in September 2016 to begin its two-year scientific mission.
InSight is the 12th selection in NASA's series of Discovery-class missions. NASA requested Discovery mission proposals in June 2010 and received 28 proposals. InSight was one of three proposed missions selected in May 2011 for funding to conduct preliminary design studies and analyses. The other two proposals were for missions to a comet and Saturn's moon Titan.
According to NASA, InSight builds on spacecraft technology used in its Phoenix lander mission, which was launched to the Red Planet in 2007. By incorporating proven systems in the mission, the InSight team demonstrated that the mission concept was low-risk and could stay within the cost-constrained budget of Discovery missions. The cost of the mission, excluding the launch vehicle and related services, is capped at $425 million.
InSight will carry four instruments. While JPL will provide an onboard geodetic instrument to determine the planet's rotation axis and a robotic arm and two cameras used to deploy and monitor instruments on the Martian surface, the French Space Agency (CNES) is leading an international consortium that is building an instrument to measure seismic waves traveling through the planet's interior. The German Aerospace Center is building a subsurface heat probe to measure the flow of heat from the interior.
Here're some key details of the InSight mission:
Launch: March 8 - March 27, 2016
Landing: September 20, 2016
Surface operations: 720 days / 700 sols
First science return: October 2016
Instrument deployment: 60 sols (including 20 sols margin)
Data volume over 1 Martian year: More than 29 GB (processed seismic data posted to the Web in 2 weeks; remaining science data less than 3 months, no proprietary period)
End of Mission: September 18, 2018
Take a look at the video below:
© Copyright IBTimes 2023. All rights reserved.