Nathan Cirillo Funeral: Fallen Canadian Soldier Honored In Hometown Service After Ottawa Shooting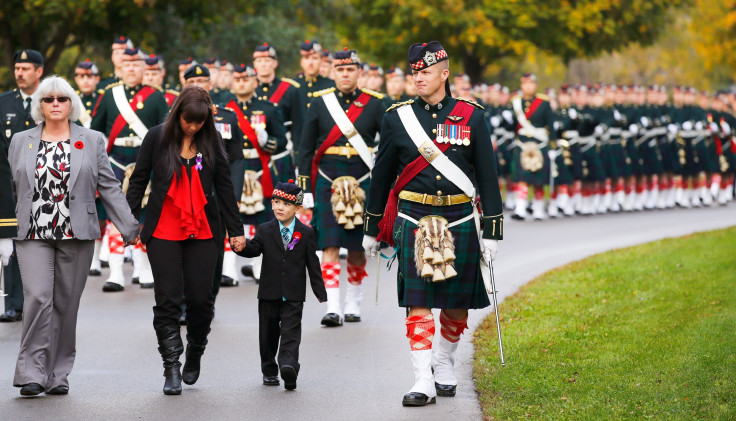 Thousands of mourners lined up Tuesday to pay respects to Canadian army Cpl. Nathan Cirillo in his hometown of Hamilton, Ontario, nearly a week after the 24-year-old soldier was shot and killed by Michael Zehaf-Bibeau in a lone-wolf terror attack at the Canadian National War Memorial in Ottawa. Prime Minister Stephen Harper joined other leaders in the procession through the city, which included Cirillo's regiment, the Argyll and Sutherland Highlanders. A flyby by a Canadian B-25 Mitchell bomber was scheduled.
The Royal Canadian Mountain Police and a number of police, military and emergency responders delegations also took part in the procession. A number of other Canadian politicians and some police and political representatives from the United States were invited. The city shut down a large area of Central Hamilton from 10 a.m. to 3 p.m. to accommodate the funeral.
The service itself was limited to family and invited guests, according to CBC. The public was invited to attend the procession through Hamilton. The funeral was scheduled to be held at Christ's Church Cathedral in Hamilton by the Rev. Rob Fead. The readings were to include Matthew 5:1-12a, Psalm 23 and Ecclesiastes 3:1-8, according to CBC. The funeral was being broadcast at Hamilton's First Ontario Centre.
Cirillo is survived by his 5-year-old son, Marcus, whom he raised as a single father, and his mother Kathy Cirillo. He was the lone victim of Zehaf-Bibeau, who ran into the Canadian Parliament building and was gunned down by the sergeant-at-arms. Cirillo carried an empty rifle during his duty as an honor guard. He died shortly after Zehalf-Bibeau shot him point blank at his post.
On Ottawa, mourners paid tribute to Cirillo with flowers and Canadian flags at the National War Memorial. MPs honored him by placing flowers at the memorial Thursday before resuming their duties across the street at Parliament Hill in a show of solidarity against such attacks. Harper said last week that Canada "will never yield to terrorism, and neither will the House of Commons."
A live stream can be seen here via Global News and here via CTV.
© Copyright IBTimes 2023. All rights reserved.