National Potato Chip Day: Strangest Flavors To Hit Shelves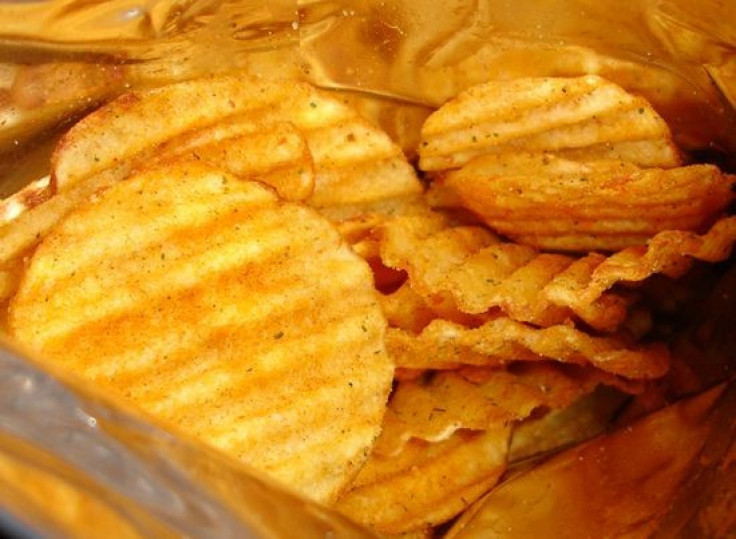 It's time to lather up in salt and grease because today is National Potato Chip Day.
The delicious potato chip was invented in 1853 in a Saratoga lodge in New York. After a man complained that his fried potatoes (or French fries as we know them now) were too thick, an annoyed chef sliced them so thin that they were crispy, over salted and could not be pierced with a fork without shattering. The chips, meant to be an insult, were met with praise, and they were eventually shipped all over New England under the name Saratoga Chips. Chips eventually made it to grocery stores in 1895, with factories developing in the early 1900's.
Across the pond, Walkers, a chip or crisp company as their called, has just released a pretty bizarre sampling of crisp flavors. Their latest flavor additions are Lincolnshire sausage and brown sauce, sour cream and spring onion, and Birmingham chicken balti. The brand of chips, which goes under the name Lay's in the United States, also produces crisp flavors: chargrilled steak, cheeseburger, steak and onion, smoky bacon, roast chicken, prawn cocktail, pickled onion, tomato ketchup, BBQ rib, Worcester sauce, cheddar cheese and bacon, sweet chili chicken and flame grilled steak.
Lay's in the United States offers a wide selection of chips as well, and while some seem like odd flavors, they aren't as unique as Walkers. Lay's offer chip flavors in Cajun herb and spice, chile limon, chipotle ranch, classic BLT, dill pickle, garden tomato and basil, sweet southern heat barbecue, tangy Carolina, Parmesan and Tuscan herb, southwestern ranch, creamy Mediterranean herb, spice rubbed BBQ, Maui onion, jalapeno, mesquite BBQ and spicy cayenne and cheese.
Pringles, the company that revolutionized chip packaging, has limited flavors, but they are xtreme to say the least. The chip site says that their Xtreme flavors aren't for the faint of heart. Blastin' Buffalo Wing, Screamin' Dill Pickle, Ragin' Cajun, and Sizzlin' Sweet BBQ are all chip flavors available in food stores.
Smaller chip brands want to get in on the odd flavoring too. Beer Chips company boasts potato chips made with beer. According to inventorspot.com, that same company is responsible for the Chip Shots: Margarita and Salt Potato Chips.
A company named Route 11 in Virginia produces some sea-inspired chips. An account is set up on Amazon where crab and chip lovers can unite and purchase Chesapeake Crab Potato Chips.
Whatever flavor of chip tickles your pallet, be sure to celebrate the day of the potato chip.
© Copyright IBTimes 2023. All rights reserved.